buchachon - Fotolia
Informatica pulls together cloud data management in the cloud
Informatica rolls out its Intelligent Data Management Cloud, as customers provide insight into cloud data management challenges and opportunities at Informatica World 2021.
At its first ever Informatica World virtual event on Tuesday, Informatica announced the availability of its Intelligent Data Management Cloud platform as customers Peloton and Charles Schwab outlined the opportunities for data in the cloud.
The new offering builds on development efforts that the Redwood, Calif., company has been deploying into the cloud in recent years, such as Informatica Intelligent Cloud Services. Intelligent Data Management Cloud provides more than 200 data services, including master data management (MDM), data governance and data quality capabilities. Pulling all the various services together is Informatica's artificial intelligence engine known as Claire, as well as a metadata layer that helps the Informatica services better graph and understand relationships across data.
"You don't need to bring data together in one place -- what you need to do is bring metadata together in one place," said Informatica CEO Amit Walia during the opening keynote. "The Intelligent Data Management Cloud is a system of record for metadata, and we've applied all kinds of machine learning algorithms on top of that metadata to allow you to do anything with data in an automated and intelligent way."
Riding with Peloton for MDM
While Informatica used its event to announce the Intelligent Data Management Cloud, much of the focus of the event was on how organizations are making use of data in the cloud today.
Among those users was Tembi Sibanda, director of enterprise data at fitness vendor Peloton. Sibanda said data is central to Peloton and the company's customers, who all have multiple touchpoints with the company. Those touchpoints could include Peloton's bike or treadmill, the company's mobile app, a purchase of the company's apparel or a call with the company's support team. Among the data challenges for Peloton was the need to establish a foundational authoritative source of data.
"What we've done in the last two years is to build out an authoritative source that brings together all this data so we know who our members are," Sibanda said.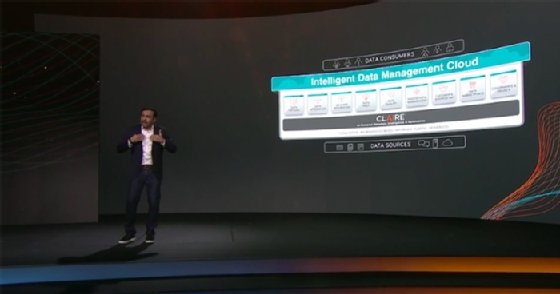 Informatica customers outline intelligent data opportunities in the cloud
Katie Meyers, senior vice president at Charles Schwab, is currently dealing with a data integration challenge by turning to the cloud.
When your data sets suddenly get much, much bigger, the operational and financial benefits of the cloud are pretty appealing.

Katie MeyersSenior vice president, Charles Schwab
Meyers explained in a customer panel that Charles Schwab, one of the largest broker dealers in the U.S., closed on its acquisition of TD Ameritrade in October 2020. There is a large integration underway to bring together information on nearly 30 million client accounts, she said.
"We are first of all moving our platforms to cloud," Meyers said. "When your data sets suddenly get much, much bigger, the operational and financial benefits of the cloud are pretty appealing."
Meyers said Charles Schwab has a long history with Informatica, starting out as a user of the company's PowerCenter technology, an on-premises data integration platform. As data governance has become a higher priority, the company adopted the Informatica suite of data governance products -- particularly for data quality and its data catalog, as well as MDM. Charles Schwab is also working with Informatica on cloud migration efforts that Meyer said differ from how her company has worked with Informatica historically.
"We're no longer talking so much about what product Informatica might have that could help us solve a problem," Meyer said. "It's more about how can we tap into the Informatica knowledge base with our other partner Google, and figure out how to expediently move Schwab to the cloud and unlock all of the capabilities there with on within our integration timeline."