buchachon - Fotolia
Informatica update improves cloud data management
Informatica is out with its fall 2020 update, integrating capabilities from its July acquisition of Compact Solutions that advance its enterprise data catalog.
Informatica is capping off a busy year with its fall 2020 update, which contains enhanced enterprise cloud data management capabilities within its portfolio of technologies and services.
Among the updates in the vendor's fall 2020 version is a new intelligent data marketplace service with artificial intelligence features to help organizations source the right data.
Informatica also integrated capabilities it gained with the acquisition of Compact Solutions in July, to expand its data catalog with improved data lineage functionality. The company's IPaaS (integration platform as a service), Informatica Intelligent Cloud Services, gets new serverless data integration capabilities as part of the fall 2020 update. The update became generally available on Oct. 13.
IPaaS is an increasingly crucial category of technology, especially during the coronavirus pandemic, said Nick Grizzell, research analyst at Nucleus Research. In Nucleus Research's 2020 iPaaS Technology Value Matrix, the firm noted that companies looking to sustain healthy business operations in 2020 and 2021 would likely move to iPaaS systems that enable citizen developers, he said.
"More companies than ever before are migrating to cloud-based solutions, and with that comes a significant increase in applications and data to manage," Grizzell said. "In recent years, cloud solutions have increased in both security and performance capabilities, so allowing citizen developers to extract value has been the real challenge, and I believe Informatica has addressed this throughout 2020."
More companies than ever before are migrating to cloud-based solutions, and with that comes a significant increase in applications and data to manage.

Nick GrizzellResearch analyst, Nucleus Research
Grizzell noted that not all companies can afford to hire teams of developers, data scientists and data engineers to manage the flow of data between applications. Companies like Informatica that consolidate data management capabilities will come out on top, as organizations move to simplified processes and automation tools that support a diverse set of business applications, he said.
Data catalog features improve cloud data management
A key part of enterprise cloud data management is knowing what data exists and where it comes from, which is what data catalog technology provides.
Ash Parikh, senior vice president of product marketing at Informatica, said the integration of technology after the vendor's acquisition of Compact Solutions brought capabilities to extract metadata and detailed lineage from complex enterprise systems.
The complex systems include stored procedures and scripts in databases and data warehouses, multi-vendor ETL tools, business intelligence tools and legacy mainframe systems, Parikh noted.
"This includes the ability to extract deep metadata from both static and dynamic code," Parikh explained. "Without these capabilities, the metadata buried in these systems is trapped in silos, leading to a black box effect."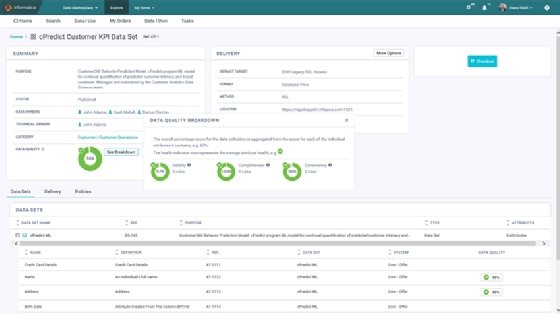 The Intelligent Data Marketplace
Among the updated components in Informatica's fall 2020 update is the Intelligent Data Marketplace, which first entered the vendor's portfolio in December 2019.
Parikh said that the original goal was to provide an "Amazon-like" shopping for data experience where non-technical users can easily find, access or request access to trusted and relevant data that is secure and governed by corporate policies and industry regulations.
In the fall 2020 update for the marketplace, Parikh noted that Informatica is adding crowdsourcing capabilities for other team members to be able to rate and recommend data sets. By doing so, the goal is to increase collaboration around discovering trusted data that can be used to derive insights.
"With the increase in remote working, it's no longer easy to just go over to the data team's cubicles and ask for the information that you want or need to do your job," Parikh said. "With a collaborative and intelligent data marketplace, users can now shop for information and hear directly from their peers on which datasets will get the job done and fulfill their business requirements."