Getty Images/iStockphoto
New Boomi AI tool enables natural language data integration
The iPaaS vendor's new capabilities are aimed at increasing efficiency by enabling customers to build pipelines and manage data using natural language rather than code.
Boomi on Tuesday launched Boomi GPT, a natural language processing feature that enables customers to develop integrations, applications and master data management models without writing code.
The vendor unveiled Boomi GPT, generally available now, during its Boomi World Tour Silicon Valley, a live event for users held in Menlo Park, Calif.
Boomi, based in Chesterbrook, Pa., is a data integration vendor whose integration platform as a service (iPaaS) suite enables users to combine data from disparate sources and prepare data for analysis. In addition, the vendor offers data discovery capabilities, a data catalog and data preparation tools resulting from its 2020 acquisition of Unifi Software.
Competitors include fellow iPaaS specialists Informatica, Salesforce's MuleSoft and Qlik's Talend.
Boomi was a subsidiary of Dell until 2021 when Dell sold the iPaaS vendor to Francisco Partners and TPG Capital for $4 billion.
In May, the vendor introduced Boomi AI, a portfolio of generative AI-powered capabilities in preview aimed at helping organizations more easily connect data, applications, processes and people to eliminate time-consuming work and efficiently reach data-driven decisions.
Using Boomi AI, customers will be able to develop integrations using best practices provided by Boomi, optimize operations with intelligent insights and build processes using automatically generated prompts that interpret users' intent, according to the vendor.
Boomi GPT is part of Boomi AI and is the first generally available feature within the portfolio.
New capabilities
One of the primary benefits of generative AI is enabling workers to do their jobs faster and with less effort.
Just as AI tools that provide intelligent insights and interpret intent reduce the time it takes to build applications and develop data pipelines, NLP tools such as Boomi GPT aim to improve efficiency by enabling data engineers and other data workers to engage with data without having to go through the time-consuming task of generating code.
They can simply type a command in natural language, which instantaneously gets translated to code that a computer system can understand, and the computer system executes the command.
Beyond efficiency, another benefit of NLP is its potential to enable more people within organizations to work with data.
For decades, only about a quarter of employees in organizations have had the expertise to use data in their everyday work. The need to know code has been one hindrance to expansion, while the need for data literacy training has been another.
NLP reduces the need for both, enabling business users to not only query and analyze data, but also execute certain data queries and develop rudimentary data pipelines on their own.
Anything that makes data integration and preparation easier will benefit customers greatly. It is still the most time-consuming part of the analytics process.

David MenningerAnalyst, Ventana Research
Boomi GPT is a feature that aims to simplify data management with NLP, enabling users to integrate data and prepare data for analysis without having to write code. As a result, it is a significant new feature for customers, according to David Menninger, an analyst at Ventana Research.
"Anything that makes data integration and preparation easier will benefit customers greatly," he said. "It is still the most time-consuming part of the analytics process. Boomi GPT focuses squarely on this issue by using natural language processing to create data integration pipelines."
While likely a welcome addition for Boomi customers, the vendor's new NLP feature is not unique among data management and analytics vendors.
In the 11 months since OpenAI released ChatGPT, which marked a substantial improvement in generative AI capabilities, most vendors have made generative AI a priority. For example, MongoDB recently unveiled a new NLP feature, and Informatica and Dremio are among the many others to develop similar tools.
"Nearly every data and analytics vendor is working on ways to incorporate natural language processing into their products," Menninger said. "It's a mad dash to see who can get these features into the market first. We are at the very early stages among data and analytics vendors, but I expect an onslaught of announcements throughout the remainder of the year."
That, however, does not diminish the importance of Boomi GPT for Boomi's customers, according to Kevin Petrie, an analyst at Eckerson Group.
Instead, it enables them to get the same productivity gains promised to customers of other vendors that are investing in generative AI.
"Boomi GPT continues the industry trend of helping users converse with their tools, reducing their need to script and boosting their productivity," Petrie said.
In fact, due to Boomi's large user base -- the vendor claims 20,000 customers worldwide -- it has more metadata than many other vendors, which its customers can use to inform AI models and applications, he continued.
"All that metadata makes a rich foundation for building and integrating the pieces that stitch together data, models and applications," Petrie said. "This gives it a leg up compared with startups that have less metadata due to a smaller installed base."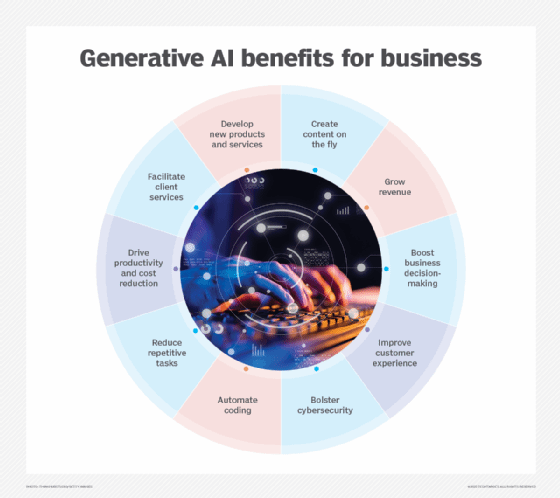 Overall AI strategy
While Boomi GPT enables the vendor's customers to execute tasks using natural language in the same manner that tools from Boomi's competitors are enabling their own users to also improve efficiency with NLP, Boomi's overall generative AI plans are similarly in line with those of other data management vendors, according to Menninger.
For example, Alteryx in May unveiled Aidin, a generative AI engine in preview that automatically surfaces insights and generates summaries of workflows and metadata, among other things.
Similarly, Informatica's Claire GPT is a generative AI tool in preview aimed at automating processes and simplifying development.
"There is so much activity and the market is moving so fast, I think it's hard to declare any particular vendor as having a clear lead," Menninger said. "The announced capabilities of Boomi AI are a reasonable starting point and certainly very helpful to customers. It will make them more efficient and reduce the amount of time needed to collect and prepare data for other activities in the organization."
Petrie likewise said that once fully available, the Boomi AI portfolio will consist of a strong set of generative AI tools.
In particular, he noted that capabilities that will enable customers to predict problems and proactively take action to ensure the stability of their integrations and pipelines are critical.
"Boomi is right to use AI for optimizing implementations ... to predict, troubleshoot or prevent issues with integrations or the underlying resources," Petrie said. "This is a critical need for enterprises that struggle to manage the many elements of heterogeneous environments."
Eric Avidon is a senior news writer for TechTarget Editorial and a journalist with more than 25 years of experience. He covers analytics and data management.
Dig Deeper on Data integration