KazantsevAlexander - Fotolia
Dell strikes $4 billion deal to sell iPaaS specialist Boomi
Dell nails down a $4 billion cash agreement to sell integration-platform-as-a-service vendor Boomi to investment firms just weeks after spinning off VMware.
Dell Technologies struck a $4 billion cash deal on Sunday to sell off Boomi, its enterprise integration specialist, to Francisco Partners and TPG Capital.
Responding to the shift to cloud computing, Dell had acquired Boomi in 2010 to help customers transfer data between on-premises and cloud-based applications. Boomi, based in Chesterbrook, Pa., is a leading vendor in the integration platform as a service (iPaaS) market. Gartner estimated the iPaaS market will exceed $5.6 billion in revenue by 2024.
"This proposed transaction positions Boomi for its next phase of growth and is the right move for both companies, our shared customers and partners," Jeff Clarke, vice chairman and chief operating officer of Dell Technologies, said in a prepared statement. "For us, we're focused on fueling growth by continuing to modernize our core infrastructure and PC businesses and expanding in high-priority areas including hybrid and private cloud, edge, telecom and Apex."
Project Apex is the IT-as-a-service initiative that Dell introduced in October at its virtual Dell Technologies World 2020 event. Dell indicated it would provide more details on Apex during this week's Dell Technologies World 2021 online conference.
Follows VMware spinoff
The Boomi deal marks the second major transaction for Dell in less than three weeks, following the April 14 spinoff of its 81% equity ownership of VMware to form two standalone public companies. At the time, Chairman and CEO Michael Dell issued a prepared statement that was strikingly similar to the comments the company released on Sunday on behalf of Clarke. Plans call for VMware to distribute a cash dividend of $11.5 billion to $12 billion to VMware shareholders, including Dell Technologies.
Dell expects the VMware and Boomi deals to close by the end of the year.
David Mooter, a senior analyst at Forrester Research, said the iPaaS market in which Boomi plays had strong growth in 2020 driven by the acceleration of businesses creating "digital experiences" in response to the pandemic. He said leading vendors, in addition to Boomi, include Axway, Jitterbit, IBM, Salesforce's MuleSoft, SnapLogic, Software AG, Tibco and Workato. Despite the iPaaS market's growth, Mooter was not surprised to see Dell exit the industry.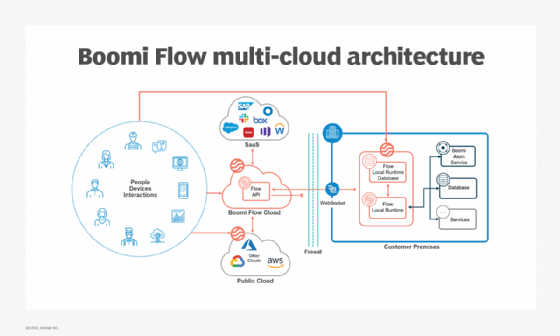 "When iPaaS is part of a broader company, it's usually due to some synergy with the rest of the company," Mooter said. "SAP created an iPaaS, since integrating with SAP typically requires an iPaaS. Salesforce acquired MuleSoft for the same reason. OpenText, a company focused on supply chain integration, acquired Liaison's iPaaS so that their integration could extend beyond the supply chain and into the enterprise."
Mooter noted that the original press release for Dell's 2010 acquisition of Boomi cited cloud computing and its partnership with Salesforce as the reasons why the acquisition made sense. "Today, Salesforce owns competitor MuleSoft, and Dell doesn't have a notable presence in cloud applications, where Boomi would have good synergy," Mooter said.
Seemed 'independent of Dell'
"Boomi always seemed very independent of Dell, and it is going to investment firms," Mooter added. "It seems less notable than when Salesforce acquired MuleSoft. In that case, some had questions if Salesforce's long-term interests would be different than MuleSoft's. Here we don't seem to have that."
Boomi always seemed very independent of Dell.

David MooterSenior analyst, Forrester Research
Francisco Partners, the global investment firm that is joining TPG Capital to acquire Boomi, has invested in more than 300 technology companies since its launch 20 years ago. Co-founder and CEO Dipanjan Deb and partner Brian Decker released a statement noting they had tracked Boomi's growth for several years and consider Boomi "well positioned to help companies of all sizes turn data into their most valuable asset," through integrating and connecting data and workflows across any combination of applications and domains.
Boomi claims to have more than 15,000 customers worldwide using its low-code application and integration platform to discover, manage and orchestrate data. The company's AtomSphere iPaaS suite includes Integration, Connectivity, Flow, Master Data Hub, B2B/EDI Management, API Management, and Data Catalog and Preparation components.
In January 2020, Boomi completed the acquisition of privately held Unifi Software for an undisclosed sum to gain access to its suite of AI-based self-service data tools designed to help customers find and use data.
Carol Sliwa is a TechTarget senior writer covering storage arrays and drives, flash and memory technologies, and enterprise architecture.
Dig Deeper on Enterprise application integration