Nmedia - Fotolia
Software AG's WebMethods update adds tools for non-IT users
Software AG's WebMethods upgrade aims to ease digital initiatives for IT pros and business users with new app integration, API management and microservices orchestration features.
Software AG is targeting businesses in the throes of digital transformation with a major update to its WebMethods platform for application and B2B data integration, API management and microservices orchestration.
The WebMethods 10.7 release -- the first portfolio-spanning upgrade since 10.5 in October 2019 -- includes new graphical and AI-driven tools to help non-IT users collaborate with technical staffers and enhanced AppMesh capabilities to manage APIs and microservices through the same interface.
Software AG's AI and machine learning (ML)-assisted "smart mapping" technology provides suggestions on the best approach to pass data from one system to another based on best practices and standards. Other new features designed to make the WebMethods software easier to use include a graphical flow editor for power users and a drag-and-drop user interface for business users to develop integrations of data and services without having to write code.
Integration tools targeting business users
Massimo Pezzini, a vice president and research fellow at Gartner, said vendors have traditionally targeted IT audiences with their integration platforms, but Software AG could now extend the product to business users with the new graphical flow editor and AI/ML-assisted mapping capabilities.
"We expect this to be a key battleground in the integration platform market," Pezzini said.
Pezzini estimated the market at $16 billion to $17 billion for integration platform technologies -- where he said Software AG has been a leading provider for at least 15 years. Competitors include Salesforce's MuleSoft, Dell-owned Boomi, IBM, Microsoft, Workato, Tibco Software, Informatica, SnapLogic and Jitterbit.
The ability to quickly integrate new cloud applications, mobile apps, data sources and IoT devices is paramount for the success of any digital transformation initiative.

Massimo PezziniVice president and research fellow, Gartner
One key trend that Pezzini has seen with integration platforms is a cloud delivery model, or integration platform as a service. He said many of the traditional vendors have struggled in transitioning to the cloud. The other important trend is the use of low-code or no-code and AI technologies to enable non-IT personnel to perform integration tasks in a self-service fashion, Pezzini said.
"The ability to quickly integrate new cloud applications, mobile apps, data sources and IoT devices is paramount for the success of any digital transformation initiative," Pezzini said.
Easing integration complexity
Forrester Research senior analyst David Mooter said organizations frequently underestimate the cost and complexity of integrating commercial software products, such as SaaS applications. He said anything that can make those tasks more efficient is a step in the right direction.
Mooter said the pandemic accelerated the need for businesses to focus on digital experiences, and as companies shift to a digital focus, IT changes from a cost center to a revenue growth driver. But he said IT cannot keep up with the demand, and more organizations are expanding development to non-IT staffers. The new WebMethods AI/ML-derived suggestions and community-shared templates could lower the learning curve for non-IT users, Mooter said.
Software AG created a new WebMethods online community to enable partners and users to build and share cloud connectors and integration templates to speed up project work. Suraj Kumar, general manager of API, integration and microservices at Software AG, said the company has about 400 connectors, but the community could enable others to contribute potentially hundreds more "recipes" to connect one application to another.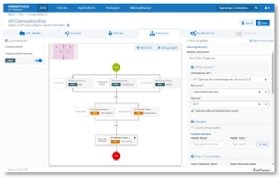 The latest WebMethods release also improves DevOps capabilities with a set of open APIs, containerized runtimes and CI/CD samples to ease software update rollouts. Software AG also enhanced the WebMethods' AppMesh capabilities to give users application-level visibility and control, with the ability to manage APIs and microservices together using the same interface.
Kumar said WebMethods previously provided microservices runtime capabilities, but the newly enhanced AppMesh enables customers to manage the microservices in the context of the entire application rather than simply the individual microservices. "Customers get deep visibility into how microservices are being used in their application, which [ones] are being used, how they are running, who's using them and what exactly they are doing," Kumar said.
Mooter said the convergence of integration and API management is an important product trend that is playing a role in digital transformation. He said that in the past, integration platforms focused more on synchronizing data between disparate systems.
"You need APIs to expose your business function and business products digitally to your partners and customers. But you want that API to express your business -- not be a reflection of the underlying tech silos behind them," Mooter said. "Integration platforms allow you to stitch together those tech silos into an API that expresses your business."
Customers can buy the subscription-based WebMethods platform for on-premises or cloud use. Pricing is based on the number of transactions. Kumar said deployments generally range from $100,000 to millions of dollars per year for customers that run billions of transactions. A SaaS-based WebMethods.io option is available on AWS and Microsoft Azure.
Carol Sliwa has been a TechTarget senior writer since 2008. Her coverage area includes enterprise architecture, flash, memory, and storage drive technology.