Fotolia
Apple Business Chat taps consumer comfort zone
Apple is partnering with a handful of large businesses for the beta release of Apple Business Chat. The messaging service should help Apple compete with Facebook and Google in the enterprise market.
Nine companies hand-picked by Apple have begun using the beta version of Apple Business Chat to respond to customer...
Continue Reading This Article
Enjoy this article as well as all of our content, including E-Guides, news, tips and more.
inquiries and make sales through the iMessage app native to every iPhone. Two of those companies said they viewed the business-to-consumer text messaging service as representative of the future of customer engagement.
Apple Business Chat, released as part of the iOS 11.3 update last week, lets iPhone and iPad users converse with customer service agents using the iMessage app they already rely on for personal conversations. The businesses receive no identifying information about the customer, unless it's shared voluntarily. And the chats are persistent, allowing customers to keep a conversation thread in their iMessage app and return to it at any time.
"We're leaning into a changing paradigm in terms of the ways people use devices," said Matt Jones, senior director of strategy and mobile apps at Home Depot, headquartered in Atlanta. "Everyone is using messaging, and so what Apple Business Chat represents is a way to introduce a text-based relationship with a company in a similar fashion to the way you would message back and forth with your family or your friends."
The role of Home Depot's contact center has been expanding in recent years. Beyond handling typical e-commerce inquiries about order status and delivery, customer service agents have become more involved in sales and retail shopping, Jones said. Many of the initial customer queries through Apple Business Chat have been about store hours and inventory.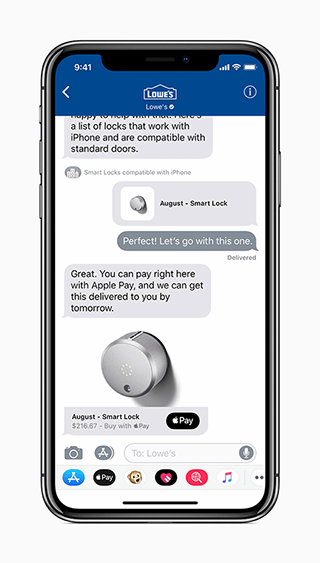 Businesses can send interactive visual iMessages to customers, providing a richer experience than standard SMS texts. The enhanced messages can help customers book an appointment, select a color or reserve a seat. The service also integrates with Apple Pay to allow for one-click purchases within the iMessage app.
Amit Shah, the chief marketing officer of 1-800-Flowers.com, based in Carle Place, N.Y., said his company has received surprisingly few questions from customers so far about the privacy and security features of Apple Business Chat. Often, customers are initially wary of making payments through new channels, but not in this case, he said.
"Because Apple Business Chat is so deeply integrated with Apple Pay, it provides a comfort layer to the customers," Shah said. "It's a payment type that they are well-aware of, a payment type that is hypersecure. It can be invoked in the same app that they might use to send money to each other."
Business messaging platforms becoming more advanced
Apple will compete with social messaging services such as Facebook Business Messenger, WhatsApp, WeChat, Line and Kakao Talk. Google, meanwhile, is looking to take advantage of the Rich Communication Services (RCS) standard -- the successor to SMS -- to provide a visually rich business messaging experience on Android phones.
Apple Business Chat is a step in the right direction, as business-to-consumer text messaging grows in popularity, said Michael Finneran, president of the advisory firm dBrn Associates Inc. in Hewlett Neck, N.Y. "This is just the first and, for the moment, the best tool we have to enhance that mobile chat experience," he said.
Eventually, most businesses will likely need to begin using both Apple Business Chat and the RCS standard to stay in touch with customers, Finneran said. For now, though, Apple has partnered with a handful of large companies and software vendors to support the beta trial; other businesses can register for access at an unspecified point in the future.
In addition to Home Depot and 1-800-Flowers.com, Apple invited Wells Fargo, Discover, Hilton, Marriott, Newegg, TD Ameritrade and Lowe's to join the beta program. Six customer service platform vendors are also participating: Nuance, LivePerson, Salesforce LiveMessage, Genesys, Zendesk and InTheChat.

"Apple continues to have a dominant market share in the U.S. in terms of the mobile devices used by our customers," 1-800-Flowers.com's Shah said. "It is very important for us to be where our customers are."
Facing stagnant device revenue, Apple has been looking to extend its reach in the enterprise market through new product offerings and partnerships with vendors such as IBM and SAP. Apple said it's not currently charging its business and software partners for access to the Business Chat platform, raising questions about the company's strategy for using the service to increase revenue.
Apple Business Chat could eventually boost the use of Apple Pay. It also has the potential to hurt Google, if businesses find they need to buy fewer ads, given that Apple plans to promote the messaging service in Safari, Maps and Siri searches for participating companies, said Tsahi Levent-Levi, an independent analyst and TechTarget contributor.
The introduction of the chat service will "create stickiness to Apple for both the businesses and the consumers," Levent-Levi said.
Dig Deeper on Team collaboration software