voyager624 - Fotolia
How Apple Business Chat could change contact-center market
The Apple Business Chat release comes as many businesses are rethinking the role of the contact center, which could turn the platform into a market disruptor.
When Apple Business Chat launches in beta this spring, it could elevate the mobile reach of contact centers --...
Continue Reading This Article
Enjoy this article as well as all of our content, including E-Guides, news, tips and more.
if, as expected, enterprises direct customer service reps to connect to the hundreds of millions of iPhone users.
Industry experts expect Apple Business Chat to draw more enterprise attention than competitors in the business messaging market for two reasons: Apple Pay and download-free access to the service.
Most business messaging platforms require users to install an app and create a profile. In contrast, Apple Business Chat will be instantly accessible to every iPhone user following a software update, and it will allow those users to message companies without having to divulge any personal information.
Through Apple's platform, iPhone users can converse with businesses through iMessage to ask a question, schedule an appointment or place an order. For participating businesses, their search results in Safari, Maps, Spotlight and Siri will feature an iMessage icon, allowing customers to start a chat with one tap.
"If you're trying to be customer-centric and you've got a lot of customers who are Apple users, if this mode [Business Chat] takes for them, then you've got to support it," said Jon Arnold, principal of Toronto-based research and analysis firm J Arnold & Associates.
Apple has released a developer preview of Business Chat and is accepting online registrations from businesses that want to use it in the future. The company has partnered with four customer service vendors -- LivePerson, Genesys, Salesforce and Nuance -- to support the platform's beta release with the iOS 11.3 upgrade this spring. Discover, Hilton Hotels and Resorts, Lowe's and Wells Fargo will be among the businesses to deploy it.
Companies using Apple Business Chat will find that unlike competing platforms Facebook Business Messenger, WhatsApp, WeChat, Line and Kakao Talk, the Apple service is "baked into the surrounding operating system," said Keith Dawson, principal analyst for customer experience and commerce with 451 Research.
"It means that for anyone who's not an Android user, it's ever present on their device as a contact mode," Dawson said. Rivals, on the other hand, will have the additional hurdle of convincing consumers to download their apps.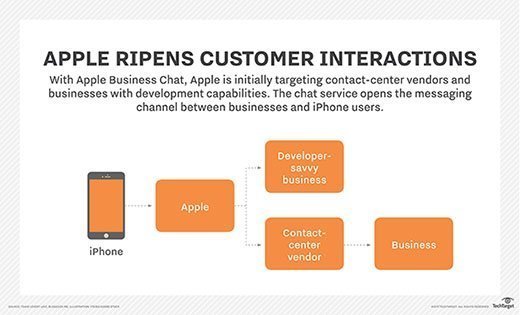 Apple Business Chat release could accelerate a restructuring of contact centers
In a 2017 survey by Nemertes Research, based in Mokena, Ill., 27% of 225 participating companies said they planned to support social messaging services like WhatsApp, Facebook Business Messenger and Apple Business Chat as customer engagement channels.
"So, I see the Apple announcement as a positive development, as companies look for new ways to engage with customers, especially among a younger demographic that is more reliant on their cellphone than a traditional web browser for shopping," said Nemertes analyst Irwin Lazar.
Social media and chat apps are contributing to a "fundamental rethinking of how businesses engage with customers," Dawson said. Contact centers are beginning to work more closely with marketing and sales teams to make sure the company is taking advantage of the customer connections these platforms offer.
The standout connection Apple has with its customers is Apple Pay
"If Apple didn't have Apple Pay, [Business Chat] wouldn't be as interesting, because that's one of the things that the contact-center experience can't deliver as seamlessly," Arnold said.
An interaction initiated by a customer asking a question could end with a product sale, facilitated by an Apple Pay thumbprint within the iMessage chat. This should motivate companies to invest more in their contact centers, which have the potential to become revenue-generators.
Nevertheless, Apple and other chat platform providers will have to show a solid return on investment before contact centers deploy the technology broadly.
"The last thing contact centers want to do is have to jump for the next shiny ball and just try the next thing that comes along," Arnold said. "They can only handle so many platforms in the business, and they can only adapt to so many new things at a time."