Video conferencing and visual collaboration
Video conferencing and visual collaboration incorporate several elements of hardware and software for conference rooms, desktops and remote workers. Businesses of all sizes need to keep up on the evolving video conferencing market to evaluate the latest trends and innovations to find the systems best suited to their needs.
Top Stories
Feature

11 Jan 2023

Review the 2022 UC and collaboration news highlights to learn about the trends that drove the market, and discover how these trends will influence the market in 2023. Continue Reading

Tip

22 Dec 2022

We live in a video world now, and businesses are focused on improving the experience for their employees. Check out the video trends driving the market in 2023. Continue Reading

Download this free guide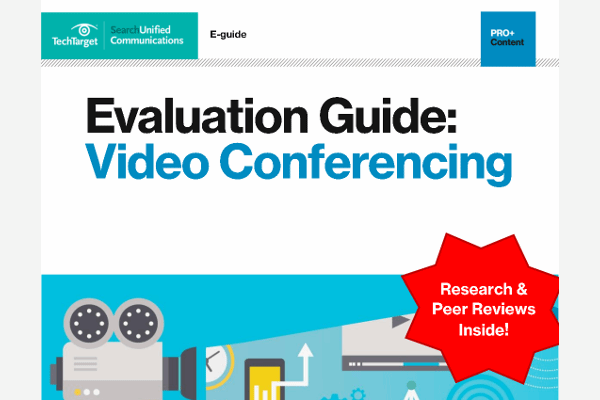 Download: Video Conferencing Evaluation Guide Includes Research, Peer Reviews
Zoom, GoToMeeting, Skype for Business, and two more video conferencing tools are reviewed by your peers in our new 35-page evaluation guide. Get an expert overview of the types of video conferencing tools, as well as bandwidth and interoperability requirements you need to be aware of before you make your purchase.
Tip

18 Nov 2022

News

09 Nov 2022

Answer

01 Nov 2022

News

26 Oct 2022

Answer

26 Oct 2022

Tip

21 Oct 2022

News

12 Oct 2022

Feature

05 Oct 2022

Feature

29 Sep 2022

News

20 Sep 2022

News

16 Sep 2022

News

26 Aug 2022

Tip

15 Aug 2022

Feature

15 Aug 2022

Answer

08 Aug 2022

News

04 Aug 2022

Answer

29 Jul 2022

Tip

29 Jul 2022

News

27 Jul 2022

News

25 Jul 2022

Answer

19 Jul 2022

News

07 Jul 2022

Tip

06 Jul 2022

Feature

29 Jun 2022

Tip

28 Jun 2022

Answer

23 Jun 2022

News

22 Jun 2022

News

21 Jun 2022

News

14 Jun 2022

Feature

08 Jun 2022

Feature

08 Jun 2022

Answer

31 May 2022

Tip

25 May 2022

News

13 May 2022

News

12 May 2022

Answer

10 May 2022

News

05 May 2022

Answer

04 May 2022

News

28 Apr 2022

News

13 Apr 2022

Tip

07 Apr 2022

News

01 Apr 2022

News

31 Mar 2022

News

25 Mar 2022

Feature

25 Mar 2022

News

24 Mar 2022

News

23 Mar 2022

News

22 Mar 2022

News

18 Mar 2022

Tip

18 Mar 2022

News

17 Mar 2022

Conference Coverage

14 Mar 2022

News

04 Mar 2022

News

02 Mar 2022

Tip

01 Mar 2022

News

24 Feb 2022

News

23 Feb 2022

Answer

23 Feb 2022

News

17 Feb 2022

News

11 Feb 2022

Tip

09 Feb 2022

News

04 Feb 2022

News

02 Feb 2022

Tip

31 Jan 2022

News

28 Jan 2022

Answer

25 Jan 2022

News

21 Jan 2022

Answer

19 Jan 2022

Answer

11 Jan 2022

News

05 Jan 2022

Tip

28 Dec 2021

News

22 Dec 2021

News

17 Dec 2021

Feature

16 Dec 2021

News

10 Dec 2021

News

30 Nov 2021

Answer

22 Nov 2021

Tip

17 Nov 2021

Feature

11 Nov 2021

Feature

10 Nov 2021

News

02 Nov 2021

News

29 Oct 2021

News

26 Oct 2021

News

25 Oct 2021

News

15 Oct 2021

Opinion

14 Oct 2021

Feature

13 Oct 2021

News

08 Oct 2021

News

01 Oct 2021

News

01 Oct 2021

News

30 Sep 2021

News

27 Sep 2021

Feature

23 Sep 2021

News

22 Sep 2021

News

16 Sep 2021

Feature

16 Sep 2021

News

14 Sep 2021

News

02 Sep 2021

News

30 Aug 2021

Feature

27 Aug 2021