Getty Images
Collaboration app Stormboard brings AI to virtual whiteboard
Harnessing advanced machine learning and natural language processing, online collaboration vendor Stormboard launches StormAI to help teams share and organize ideas faster.
Amid a profusion of new generative AI tools and platforms hitting the market, virtual whiteboard collaboration vendor Stormboard released StormAI to enable users to generate and organize ideas faster.
The AI assistant launched May 9 as a technology preview for enterprise-tier clients and is also available free for 30 days in the business tier. It will be a charged feature in the enterprise tier in the next quarter, according to Stormboard.
Since the pandemic started in 2020, the remote work trend continues to dominate, propelling the need for platforms that make online collaboration easy and intuitive. Many vendors offer virtual whiteboards to re-create the teamwork environment digitally.
StormAI uses advanced machine learning and natural language processing to provide and categorize ideas for teams in real time.
But even with generative AI capabilities, human input and supervision are still paramount in ideation platforms, according to Metrigy analyst Irwin Lazar.
Balancing human and AI collaboration
StormAI, and tools like it, can provide workflows and content that act as a springboard for further human brainstorming, Lazar said.
Generative AI could create initial designs for products or marketing collateral directly within the virtual whiteboard for teams to then further develop.

Irwin LazarAnalyst, Metrigy
"For example, generative AI could create initial designs for products or marketing collateral directly within the virtual whiteboard for teams to then further develop," Lazar said.
Sometimes generative AI comes up with some oddball ideas, and that's not a bad thing, according to Stormboard chief revenue officer Al Wasserberger. He said that after speaking with customers, he learned that teams tend to welcome something unconventional because it lets them analyze ideas in a different way.
"They actually love that," Wasserberger said. "It's freeing their employees to be a little bit more creative. People don't have to worry about putting forth a bad idea."
Teams working in Stormboard can use StormAI to generate a template with relevant ideas by choosing a task and providing a text prompt. The final product is rendered in Stormboard's classic sticky note format.
StormAI can assist teams throughout the entire brainstorm process. It helps users generate templates before the meeting, create ideas during the meeting, and export the ideas using Microsoft PowerPoint or Google Docs after the meeting.
"It's this full round trip that allows you to really condense your meetings," Wasserberger said.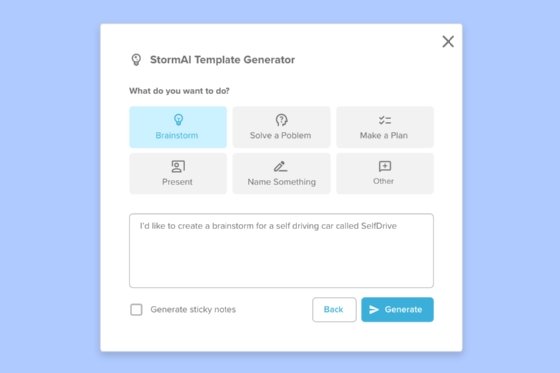 Stormboard is not alone in the virtual whiteboard niche, which is also inhabited by the likes of tech giant Microsoft.
Microsoft's Copilot in its virtual whiteboard program offers similar capabilities. In addition to generating and organizing ideas based on users' text, Copilot in Whiteboard can also create new accompanying images with Microsoft Designer.
Stormboard, meanwhile, is for sale on the Microsoft Store.
Competitors in the virtual whiteboard market such as Mural and Miro can be expected to introduce generative AI tools as well, Lazar said.
However, generative AI can only be effective in the long run by gaining users' trust, according to TalkingPointz analyst Dave Michels.
"At this stage, data that a user can share with an AI assistant is limited to certain apps or functions," Michels said. "The barrier it needs to overcome will be our willingness to allow AI to shift from a tool that helps us collaborate to a participant in the collaboration."
For security purposes, StormAI sends its data to Stormboard's private database on Azure's OpenAI service, and data is deleted after 30 days, according to Wasserberger. It is not used for training purposes, he said.
From machine learning to learning from the machine
Another potential pitfall for Stormboard and similar collaboration app vendors is allowing the technology to get in the way of human creativity.
There might be a time when generative AI becomes so smart that its suggestions outperform those of humans, thereby stealing the personal satisfaction of brainstorming, said Adam Preset, an analyst at Gartner.
"The spark comes not just from picking an idea generated by something else, but by having the idea ourselves," Preset said. "We'll have to remember that we can still exercise creativity in making choices and in recombining ideas as a way of innovating."
Adding generative AI isn't the only way to improve technology-assisted teamworking.
Adobe last week unveiled updates to FigJam -- the whiteboard platform in its collaborative design app, Figma -- to make the brainstorming area more customizable and playful. FigJam's new features include workflow consolidation into one panel, color customization, emoji tags and the option to add music.
Mary Reines is a news writer covering customer experience and unified communications for TechTarget Editorial. Before TechTarget, Reines was arts editor at the Marblehead Reporter.