Explore 12 virtual whiteboard software options for group work
With enterprise workers now based in many locations, these 12 leading online whiteboards help recreate the in-person brainstorming experience with newly enhanced features.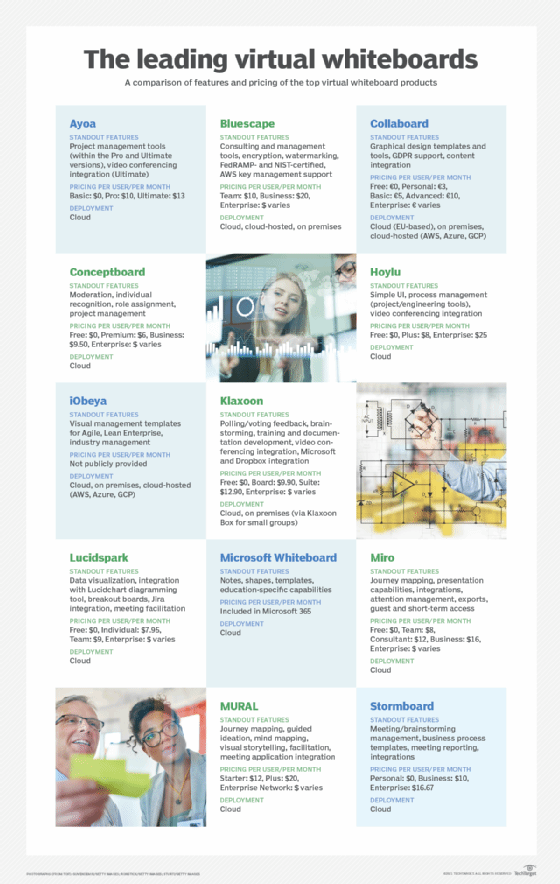 Online whiteboards are surging in use with enterprise teams dispersed and group collaboration crucial to uphold productivity in today's remote or hybrid work environment. With virtual whiteboards in place, distributed workgroups can come together on a digital canvas to develop ideas and workflows, much as they would do in person and on-site using a plain old dry-erase whiteboard.
Even as vaccinations increase and other numbers indicate some pre-pandemic life is possible again, a full return to an on-site work model still appears a long way off. Companies have had to rethink the way their employees brainstorm ideas among themselves, and virtual whiteboard applications have risen to this task, expanding capabilities to make it a more seamless experience for teams to flesh out visual representations of projects and ideas. Compared to their analog predecessors, virtual whiteboards offer more enhanced functionalities:
Persistence. Users can create whiteboards for virtually any purpose and continue use over time.
Templates. Support repeatable use cases, such as swimlane development, journey mapping, product design, engineering, process workflow creation and Kanban management for Agile software development.
Rich content support. Enables teams to embed media files, data and external sources into whiteboards.
Collaboration integration. Teams can access and maintain digital whiteboards from within team collaboration or meeting apps.
Enhanced presentations. Presenters or facilitators can take audience participants on a journey across different content, showing evolution and interrelation of concepts, rather than being confined to the standard slide-based format.
Rewind. Board users can retrace work and see how ideas developed.
Facilitation. Covers features like timers, idea grouping, polling, and feedback to assist in idea capture, development and selection.
Virtual whiteboards are continuing their evolution to support enterprise requirements for compliance, security and governance by offering features such as encryption, single sign-on and data retention. While most vendors are SaaS-based, providing only a cloud offering, some support on-premises deployments or self-managed deployments within cloud services such as AWS, Azure and Google Cloud Platform (GCP).
Editor's note: Using extensive research into the virtual whiteboard market, TechTarget editors focused on online whiteboard applications geared toward remote, multimember enterprise teams that enable real-time collaboration and offer a cloud deployment option. Our research included data from TechTarget surveys, as well as reports from other respected research firms, including Gartner.