Manage
Learn to apply best practices and optimize your operations.
Boardroom vs. huddle room: Comparing meeting room layout needs
To get the most out of your meeting space, you need the right equipment and meeting room layout. This infographic illustrates what you'll need for the huddle room or the boardroom.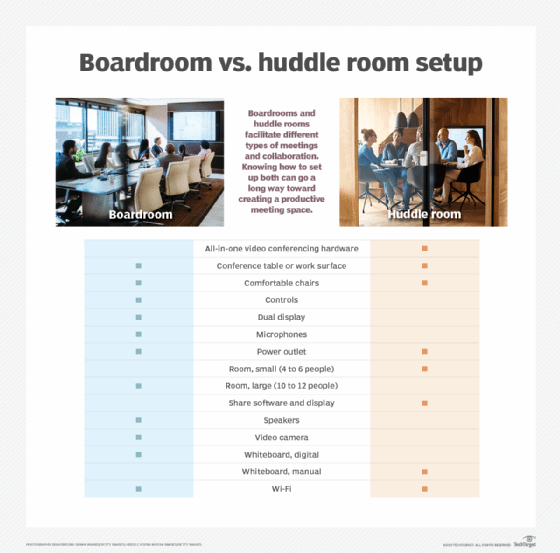 Everyone needs a space to meet, collaborate and share information. Various meeting room styles fit those collaboration needs, whether it's a boardroom for large quarterly meetings or smaller huddle rooms for informal collaboration among on-site and remote teams.
Organizations planning their meeting room layouts may find some overlap in what equipment is needed. Most rooms will require the basic necessities, such as comfortable chairs, a table and a strong Wi-Fi connection. But when it comes to the boardroom vs. huddle rooms, the difference lies in the required audio and video (AV) equipment.
Boardrooms often require a complex setup of AV components. The meeting room layout needs strategically placed speakers and high-quality microphones to ensure they pick up the audio no matter where the speaker is located. The boardroom also needs some form of display. While a single display screen will suffice, some organizations might favor a dual display if their meetings include people over a video conference. Digital whiteboards are also important in the boardroom so all the participants have access to new visuals and information.
Huddle rooms benefit from video and audio, but the options look quite a bit different than those for larger meeting spaces. Where boardrooms need multiple components to facilitate video and audio, many vendors offer a kind of all-in-one system for huddle rooms.
Vendors like Lifesize and Poly offer video conferencing systems that include cameras, speakers and microphones all built into a single piece of hardware. These systems are often compatible with video services like Cisco Webex and Zoom.
Most huddle rooms also operate with a bring-your-own-device model, where a laptop or other personal device can connect to the video conferencing system and act as the management interface for the room.