Jetsons technology that became mainstream
'The Jetsons' -- among other TV shows -- predicted video calls, smartwatches and chatbots would become part of everyday life.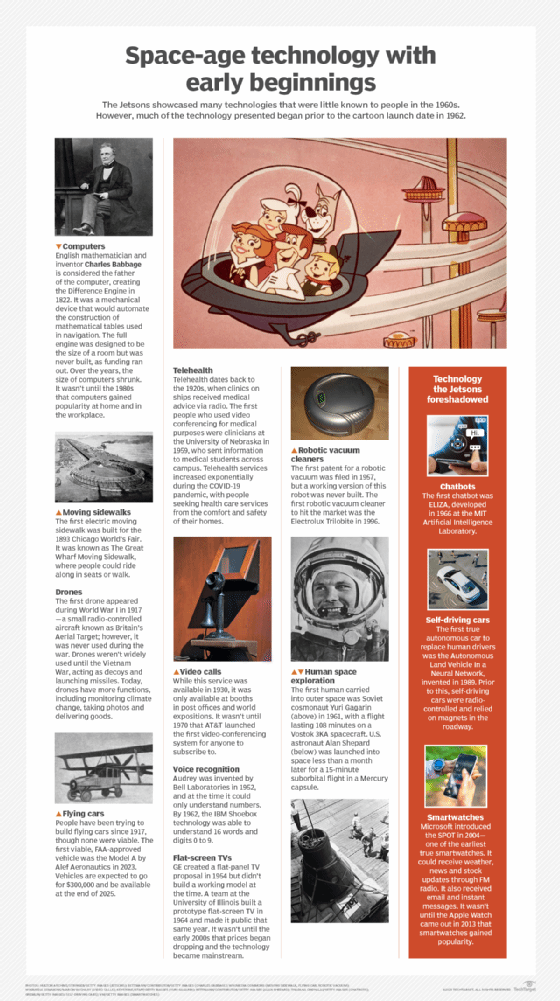 Sometimes, TV can foreshadow aspects of life that will later become reality.
The Jetsons was a household name in 1962. The futuristic cartoon depicted the lives of George, Jane, Judy and Elroy Jetson living in Orbit City on Earth in 2062, with technology unknown to many at the time.
What many people may not know is much of the technology presented had beginnings prior to 1962 -- including flying cars, moving sidewalks, robotic vacuum cleaners and video calls. It wasn't until years later that these tools became viable and made their way into mainstream society.
However, there were some technologies that didn't exist prior to 1962 that the TV show did predict, including chatbots, smartwatches and self-driving cars.
The Jetsons wasn't the only TV show to predict technology that would become part of everyday life. Early episodes of The Simpsons foreshadowed smartwatches and FaceTime. And Star Trek accurately predicted flip phones and Bluetooth devices.
As time goes on, inevitably more technology will make its way into everyday use and more predictions will come to pass.