The history and evolution of video conferencing
Video conferencing has a history dating back to the 1800s, but two-way video didn't emerge until the 1930s.
Like so many technologies, the concept of video communication and video conferencing was way ahead of the technology of its day. Soon after the telephone was invented in the late 1800s people were dissatisfied with just hearing the other party -- they also wanted to see the other party.
It was a long trip from the first video call to Zoom meetings with a dozen people -- and many steps between. AT&T and Bell Labs led the way toward video calls since they provided the only means of telecommunication for decades.
Video conferencing has grown from person-to-person communication with black and white still images to multi-party transmissions with 4k resolution in real-time. The history that led us to Zoom, Teams, Skype and Webex is long and storied.
The 1800s and Bell Labs
The first concepts of video conferencing appeared in the 1870s, when Bell Labs came up with the concept of transmitting an image and audio over wire. But it was decades before this actually happened.
1920s: AT&T's Bell Telephone Laboratories video call with Herbert Hoover
Audio transmission was relatively simple technologically, but video transmission was not. The problem wasn't the transmission technology -- it was the cameras. The first stable and operational TV cameras entered the market in the second half of the 1920s, setting the stage for video communication.
On April 7, 1927, AT&T Bell Telephone Laboratories created a working TV communication complex. It broadcasted a live moving image of then-Commerce Secretary Hoover from the White House to New York -- a distance of 200 miles. Viewers in a New York auditorium could see Hoover, but he could not see them.
1930s: The birth of two-way video
In 1931, AT&T demonstrated a two-way video communication session between two AT&T offices in Manhattan where, unlike the Hoover demonstration, both parties could see each other -- a first. However, lingering effects of the Great Depression stalled the development of video communications.
1936: Georg Schubert develops telephony
During the 1936 summer Olympics in Germany, Georg Schubert, a German inventor, developed a prototype of modern video telephony that could be used for commercial purposes.
The system called was called Gegensehn-Fernsprechanlagen, or "visual telephone system." Initially, the connection between Berlin and Leipzig -- about 100 miles apart -- using a coaxial cable. It eventually expanded to more than 620 miles of coaxial cable transmission lines in many cities. Video call booths were set up in post offices, where people could connect to call booths in other cities. However, the technology was discontinued in 1939 with the start of World War II.
1950s and 1960s: AT&T 'Picturephone' developments
In 1959, Bell Telephone Laboratories created a prototype of a two-way video communication system. It only transmitted one frame every two seconds, but it was clear and had a stable image.
The project became known as the Picturephone Mod I by AT&T. They presented a working video phone at the World's Fair in New York on April 20, 1964.
In 1969, AT&T introduced the Picturephone Mod II, an office video communication system able to broadcast 30 frames per second. AT&T attempted to roll out a national Picturephone network, but it failed.
1982: Competition
Compression Labs, an AT&T competitor, launched CLI T1 as the first commercial group video conferencing system. Its hardware took up an entire room, and it had a hefty upfront cost of $250,000. Each call also cost $1,000/hour.
1980s: The rise of PictureTel
Some MIT students and their professor formed PictureTel Corp. in 1984. It invented the first commercial video codec for more efficient data transfers. In 1989, AT&T chose PictureTel for an international video conference. It provided two-way, real-time audio and full-motion video connections between PictureTel headquarters and the AT&T office in Paris. In 1991, PictureTel became an IBM multimedia business partner and pursued a PC-based video conferencing system.
1990s: Internet boom and digital telephony advancements
Students in the Cambridge University Computer Science Department invented the first webcam in 1991. It provided a 129×129 pixel grayscale picture at one frame per second, pulling images three times per minute.
Also in early 1990s, a Cornell student wrote a program called CU-SeeMe. This became the first desktop video conferencing platform. It was released on the Macintosh OS in 1992 and Windows in 1994.
In 1994, Connectix launched QuickCam, the first commercial webcam. It only provided a 320x240 pixel resolution with a grayscale color depth of 16 shades at 60 frames per second -- or 15 frames per second if it was switched to 256 shades of gray. In 1998, Logitech purchased the QuickCam.
Late 1990s: Polycom and the rise of video conferencing
Polycom was founded in 1990 by two PictureTel colleagues. SoundStation was Polycom's first product released in 1992. It was a triangular speakerphone with high-quality audio that enabled both parties to simultaneously speak and be heard. Its first video product -- ShowStation -- shipped in 1994.
2000s: Rise of smartphones -- Skype, WhatsApp and FaceTime emerge
Smartphones had rear-facing cameras for taking photos but soon added a front-facing camera -- where the camera was on the same side as the keyboard -- specifically for video conferencing. The first smartphone to feature a front-facing camera was the Kyocera Visual Phone VP-210, released in Japan in 1999. Multiple phones, including the Sony Ericsson Z1010, came with front-facing cameras in 2003.
Smartphone video conferencing really took off in 2010 with the introduction of the iPhone 4 and FaceTime. With the tap of a button you could go from a voice call to two-way video communication. Initially it only supported Wi-Fi connections, but Apple quickly added support for 3G and 4G/LTE.
"Operation Lindbergh," the world's first telesurgery, took place Sept. 7, 2001. A team of French and American doctors in New York performed surgery on a patient in Strasbourg, France, using high-speed telecommunications technology and a surgical robot named Zeus.
A few months later, the first live video broadcast using satellite video conferencing technology was conducted during the opening of the war in Afghanistan. Reporters used this new technology to send live video reports from Afghanistan to their network headquarters for rebroadcast.
Three Estonian software engineers introduced Skype in August 2003. EBay bought Skype in 2005 and sold it to Microsoft in 2011. It started out as a text messenger but expanded to add video.
Two ex-Yahoo employees founded WhatsApp in 2009 as an instant messaging app. It did not add video chat until 2016 -- two years after it was bought by Facebook.
Teams and Zoom how-tos
Now that you know the history of video conferencing, it's time to learn how to use this technology.
Microsoft Teams and Zoom are two popular video conferencing tools for businesses to choose. Here are some tips and tricks for using each:
2020: Coronavirus pandemic and video conferencing boom
The COVID-19 lockdown forced a large percentage of Americans to work from home, and for their kids to attend school online. This led to a boom across the board for all video products, as many schools and businesses purchased video conferencing tools to keep people connected from home.
Read more about what to consider before purchasing video conferencing technology.
Webex is the oldest of the bunch. It formed in 1995, and Cisco Systems acquired it in 2007. It offered a comprehensive suite of products for business users, but in September 2020, Cisco launched a new platform -- Webex Classrooms for virtual homerooms. Another tool -- BlueJeans -- started off in 2009 as a client-agnostic video conferencing tool. It operates with business conferencing systems such as Cisco, Salesforce Chatter, Microsoft Lync, StarLeaf, Lifesize and Polycom, as well as consumer services such as Google Talk. It was acquired in May 2020 by Verizon Communications.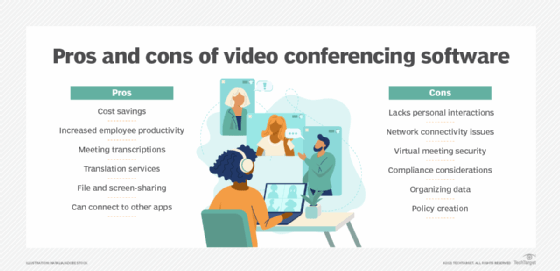 Microsoft came a little late to the game with the introduction of Microsoft Teams in 2017. It was designed to be a replacement for Skype for Business and Microsoft Classroom. Features include individual and group chat, file sharing, team chats, team channels and VoIP. It also provides real-time text transcriptions of voice chats.
Another video conferencing tools is Zoom Cloud Meetings -- or Zoom for short. Zoom enables large conference calls; up to 100 people can participate in a call and up to 49 people can be seen on a desktop monitor at once.
With its popularity skyrocketing, Zoom's developer pushed out new features almost monthly. It offers a transcription service using Otter.ai, which turns voice to text. Zoom Rooms and Zoom Phone became available as hardware-as-a-service products. In September 2020, Zoom added new accessibility features to appeal to those who are deaf, hard of hearing or visually impaired.
In October 2020, the company unveiled OnZoom -- a virtual event marketplace with an integrated payment system where users can host and promote free or paid live events. OnZoom hosts can schedule and host one-time events or event series for up to 1,000 attendees and sell tickets online.
Learn about some video conferencing trends in 2021.
Dig Deeper on Personal computing