Evaluate
Weigh the pros and cons of technologies, products and projects you are considering.
What to know before rolling out a SIP deployment
In today's communication world, SIP is a necessary tool. A report from the SIP School reveals what you need to know and how other organizations approach their SIP deployments.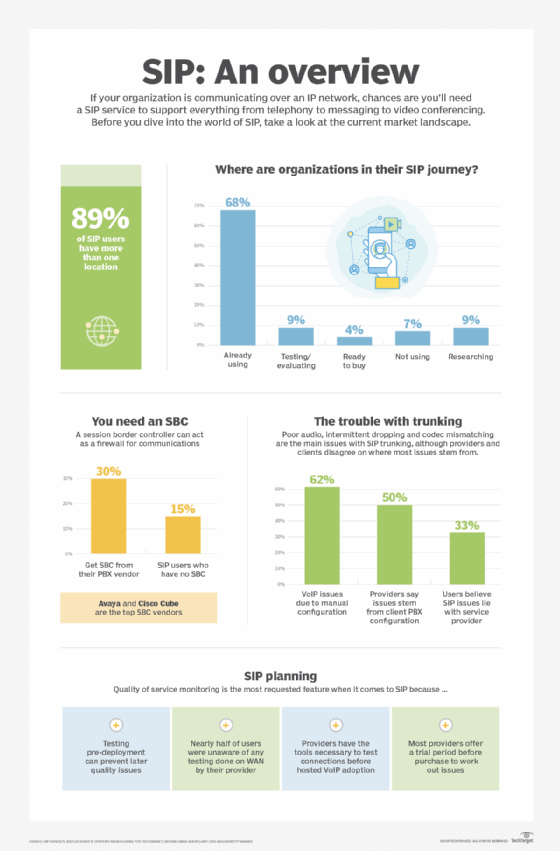 Any organization moving on from a legacy, time division multiplexer-based telephony system is likely using the Session Initiation Protocol, or SIP. SIP is an integral piece of the communications puzzle for both on-premises and cloud communications services. But what do you need to know before rolling out a SIP deployment?
The first step to a successful SIP deployment is understanding the current SIP landscape. The SIP School's report, "The Sip and Cloud Survey 2018," surveyed service providers and end-user organizations to offer insight on where organizations are in the SIP adoption process, the issues they've encountered and the services vendors typically provide around SIP offerings.
Session border controllers (SBCs) are an important part of your network when adopting SIP. SBCs provide quality and protection for your communications by acting as a firewall. Despite the necessity of SBCs, 15% of end-user organizations using SIP said they had no SBC installed on their network, leaving them open to potential security risks.
The main area of concern for vendors and users alike is SIP trunking, according to the report. Issues with SIP trunking can lead to an overall poor communications experience, with users encountering audio issues, call failures and codec mismatching. The survey revealed a discrepancy over where the fault lies with these issues. Most SIP users feel that issues stem from their providers, while the majority of vendors say problems are the result of the customer's PBX configuration.
With the plethora of vendor offerings, finding the right SIP deployment option for your organization can seem like a daunting task. SIP services often need to be tailored to fit the needs of an individual business, making that task all the more daunting.
Most vendors offer trials of their SIP services, which can help organizations iron out problems and make the necessary adjustments before completing a SIP deployment. At the end of the day, the secret to a successful SIP deployment lies in the planning.