Conference rooms of the future target meeting efficiency
When overhauling your meeting room technology, don't forget the basics, such as high-speed network connectivity and power accessibility for all end users.
More than 70% of companies are engaged in digital transformation initiatives, according to a Nemertes Research...
Continue Reading This Article
Enjoy this article as well as all of our content, including E-Guides, news, tips and more.
study. The projects -- ranging from forms automation to enhanced contact center channels -- result in increased revenue, reduced costs, better customer experiences, competitive advantage and more employee loyalty.
One area ripe for transformation may seem mundane on the surface. But two-thirds of organizations are engaged in, planning for or evaluating "conference rooms of the future" projects, according to Nemertes data.
By streamlining collaboration technology and physical features of conference rooms, meetings become more efficient, and teams make decisions faster -- potentially boosting revenue and improving competitiveness.
One of the initial challenges, however, is determining who will run the projects. Typically, the battle is between IT and the facilities management team. At many organizations, IT is trying to gain control of these projects in order to make the technology consistent across the enterprise.
Don't ignore the most basic capabilities
IT leaders launching or evaluating projects for conference rooms of the future need to consider several factors.
Because meeting rooms are becoming technology centers, IT must control the projects, while working with the facilities team to assist with physical wiring, deliveries, installations, local regulations and other items. IT must also work with business units to gather certain requirements based on the type of meeting room, whether it's an auditorium, large conference room, huddle room or individual office.
Oftentimes, the most important improvements involve the most basic capabilities. All rooms, regardless of size, need high-speed network connectivity, high-quality sound and video, reliable endpoints and power accessibility for all participants. Surprisingly, many rooms do not offer these basic components.
Another common problem is organizations may have multiple web conferencing platforms, and employees are not sure which one to use.
Conference rooms of the future should ease meeting setup
Many meeting rooms may need a physical overhaul. For instance, the locations of power outlets, video controls or network connections all vary among rooms and need to be considered. Furniture, too, is different, as some seats can be adjusted, while others cannot.
Additionally, some rooms have wireless connectivity, while others do not. And, increasingly, companies are using a bevy of distinct digital whiteboards, such as Cisco Spark Board, Google Jamboard and Microsoft Surface Hub.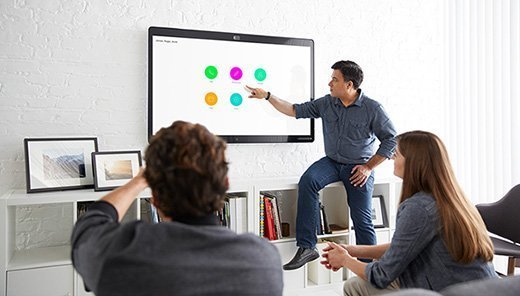 To complicate matters, collaboration apps are wildly inconsistent. Large video rooms cannot always integrate with video systems in huddle rooms or on mobile devices. And team collaboration apps are not always integrated into the meeting rooms.
But more seamless collaboration workflows are possible. For example, a biometric sensor could note when a meeting leader enters the room. It can instruct an AI app to start the video and audio bridges, open the team collaboration channel, and upload all relevant documents for the meeting.
Additionally, as you consider your conference rooms of the future, don't ignore ancillary services. Meeting space must be integrated into calendars to make scheduling easier and more accurate. Further, internet-of-things sensors can update calendars if prescheduled meetings are not actually happening, enabling ad hoc meetings to take place in those rooms. Also, organizations would want concierge services or voice assistants to provide support when launching meeting room technology.
Ensure employee satisfaction and success
The key to an effective meeting room transformation is consistency. An employee should be able to enter any meeting room and know how to launch technology, find outlets and network connections, share screens wirelessly and use digital whiteboards.
One way to ensure satisfaction and continued improvement is to measure activity and success in the following areas:
Meeting room use. As meeting room technology becomes more consistent, has employee use increased? If not, is there a concerted effort to market the improvements to employees?
App use in meeting rooms. Which apps are most popular, and which are not? Expand on the apps that people like.
Application performance. How is the technology performing? If you have too many outages, employees will give up. Make sure to use performance management tools to keep the technology running efficiently. Unified communications and collaboration management providers -- such as IR, Oracle, Riverbed and Unify Square -- can help with real-time performance management.
Business metrics. Where are meetings falling flat? Are people having a hard time getting the technology started? Perhaps such metrics would justify an AI app that automatically starts each video or audio conference.
Hopefully, these key tips and considerations will help get you started as you launch your conference rooms of the future.