Huddle rooms help fuel audio conferencing endpoint market
Despite recent economic struggles, the audio endpoint market is benefiting from the newest trend of smaller collaboration spaces in enterprises.
After recent declines, the global market for audio conferencing endpoints should see gradual growth as the emergence of huddle rooms fuels demand for these products. USB and voice over IP conference phones, in particular, are also driving growth in audio conferencing endpoints, according to a recent report by Frost & Sullivan, a market research firm based in San Antonio.
Huddle rooms, or small meeting rooms, are playing an increasingly important role for enterprise collaboration, and offer sales opportunities for audio and video conferencing vendors. According to market data, 30 million to 50 million huddle rooms span the globe today.
In 2016, revenue in the global tabletop audio conferencing endpoints market reached $332.1 million. By 2021, that revenue is expected to reach $488.7 million. The overall tabletop market is expected to grow 11.2% annually in terms of units shipped and 8% in terms of revenue.
Since the conference phone market is driven by low-end USB conference phones, the vendors' market play is primarily a "low-margin and high-volume game," said Frost & Sullivan analyst Vaishno Devi Srinivasan. The cost of audio-enabling huddle rooms ranges from $60 to $600, Srinivasan said, depending on the type of conference phone, microphone pickup range, audio quality and clarity requirements and the number of participants supported.
Audio endpoint vendors adjust to market
The affordable costs and wide range of products benefits audio conferencing endpoint buyers. With the proliferation of video conferencing rooms, businesses are progressively expecting audio and video bundles at low price points. This presents an opportunity for both audio endpoint vendors and users.
According to market data, 30 million to 50 million huddle rooms span the globe today.
The convergence of video with audio endpoints in low-cost bundles caters to huddle room requirements. With huddle rooms playing a vital role in the audio endpoints market, many vendors are focusing on products that will be compatible with these small meeting rooms. The majority of vendors in the audio endpoints market already have a USB conference phone in their portfolio.
Along with the growth of huddle rooms, the other factors driving the audio endpoints market have been more widespread unified communications usage and an expanding mobile workforce. The demand is expected to continue to grow with the increased adoption of software-based collaboration services within businesses, and the increased number of workers engaged in meetings, Srinivasan said.
Some of the vendors in the audio conferencing endpoint market include Logitech, Polycom, ClearOne and Jabra.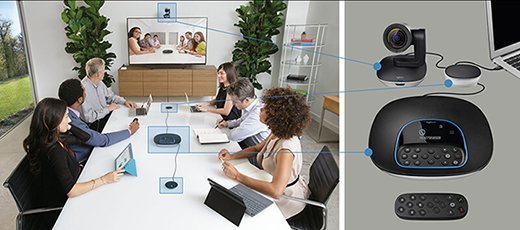 Audio conferencing endpoints see bounce back
In recent years, tight IT budgets and tough economic environments in certain parts of the world have hindered the growth of the audio conferencing endpoints market, according to the Frost & Sullivan report. Additionally, an overall slowdown in large on-premises technology investments and the high cost of advanced installed audio conferencing systems have restrained the market.
In 2016, revenue in the global tabletop audio conferencing endpoints market declined by 1.6% because of the decrease in TDM and VoIP connectivity endpoint sales, the report found.
The installed audio conferencing endpoint market declined by 16.3% in terms of revenue and 7.3% in terms of volume as demand ebbed for high-end installed audio conferencing systems. This market, however, is expected to revive gradually and grow 3.5% annually over the next few years, driven by low-end audio conferencing systems.
Dig Deeper on Video conferencing and visual collaboration