Sergey Nivens - Fotolia
Evaluating video conference options: BYOC, kits, appliances
The varieties of video conferencing tools can be confusing. Let our expert help you gain clarity on how kits, appliances and bring-your-own-compute options work.
IT leaders looking to meet growing employee demand for access to video conferencing have a lot of choices to make. Thanks to growing competition, falling prices and rapid growth in cloud-based meeting services, deploying video conferencing to meeting rooms and huddle spaces no longer requires a large-scale capital expenditure. It is now available for virtually every purpose.
Typically, provisioning meeting rooms is possible via one of three video conference options:
appliances that integrate audio and video codec, as well as computing power to run conferencing apps, into a single device;
kits that combine separate camera, compute and audio devices; and
bring your own compute (BYOC) that provisions a camera, screen and sound device into rooms and huddle spaces, relying on conferencing participants to either bring their laptop into the room or use a separate, stand-alone conferencing computer.
Historically, the appliance model was best suited to the larger, complex conference room and was the most expensive of the three video conference options.
Kit approaches have become popular for users of meeting services like Microsoft Teams and Zoom, thanks to the extensive ecosystem of options from vendors including Crestron, Hewlett Packard Enterprise, Intel, Lenovo, Logitech, Plantronics' Poly, Yealink Inc. and more.
BYOC approaches offered the lowest initial cost, but the most complexity, as setup involves connecting a user's computer to the room devices, which opens up the door to configuration and connectivity issues that can delay a meeting start. Kit products, on average, have about five separate components in a room. Some devices have multiple ports, creating the potential for 10 or more failure points within a single conference room. Appliances that integrate these components into a single device reduce the potential failure points.
Comparing costs of three video conference options
Nemertes studied the various options in 2019 to uncover real-world costs of each option. It found that for huddle space deployments, the BYOC model had the lowest upfront cost, but the appliance approach offered the lowest implementation, operational and overall five-year total cost of ownership (TCO) compared to the other two options. Kit-based deployments were the most expensive in implementation, while BYOC had the highest operational support costs.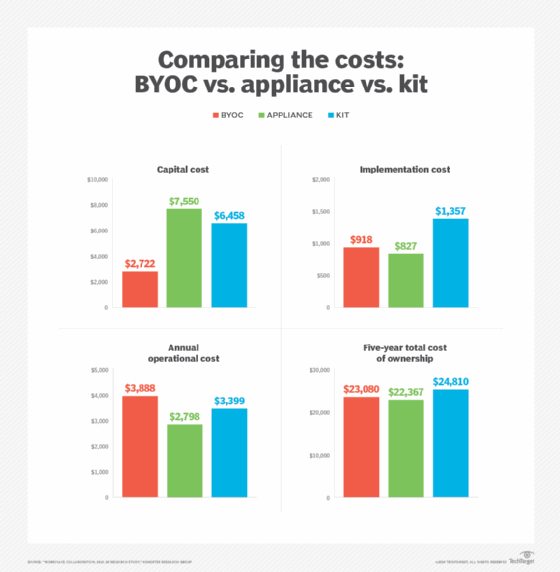 Since early 2019, the market has shifted strongly to the appliance model with new entrants from Cisco (Webex Room Kit, Room Kit Mini and Room Kit Plus), Poly (Studio X30 and X50), Yealink (VC200) and newcomer Neat (in partnership with Zoom). Each of these vendors offers devices comprising a single form factor that incorporates microphones, camera and compute. This type of product minimizes the number of separate components that must be deployed into a room or meeting space. Most of these tools support controlling the system to join meetings from either a touchscreen or separate touchpad. Other kit vendors are expected to follow suit and introduce their own appliance-based options in the future.
The shift to subscription-based purchasing models is an additional consideration for buyers. Many vendors are offering device as a service (DaaS) approaches that allow customers to rent their video conferencing endpoints for a period of time and either trade them in or renew the rental at the end of the contract term. DaaS differs from traditional leasing agreements in that vendors often bundle managed services that include inventory management, whereas in many leasing approaches, the customer is responsible for inventory management. Kits that combine components from a variety of different vendors may not be available as a DaaS purchase, meaning that customers must either buy the kit outright or lease it from a reseller.
Another feature of appliances is the tightly integrated software that supports remote management of all components of the solution, as well as advanced features like AI-powered participant counting, framing and voice control. Here again, separate kits may not offer as rapid advancement of new features given the disparate compute, audio and video components, often from different vendors.
IT leaders should carefully evaluate emerging appliance-based video conferencing products for their needs. Nemertes' research shows that the appliance-based model offers lower TCO, and it is clear that the market is rapidly moving toward an appliance-based future.
Dig Deeper on Video conferencing and visual collaboration