Comparing video conferencing tools: Cisco, Microsoft and Zoom
Before selecting a video conferencing platform, it's important to consider how the product addresses user needs, integrations, pricing and licensing, and product support.
Considering today's geographically distributed enterprise workforce, it's no wonder organizations are relying more heavily on the use of unified communications and collaboration software. One such technology that adds a visual component to communicating is video conferencing.
Even though all video conferencing tools largely perform similar duties, there are certain differences between products and vendors that may make one platform a better fit for your organization.
Here we examine enterprise video conferencing platforms from Cisco, Microsoft and Zoom, and point out the unique features of each and how these products differ from one another. But before we dive into the specifics of each product, let's examine four key considerations when selecting a video conferencing platform.
Who will be using the video conferencing software? Cisco Webex and Zoom are better choices if users will be conferencing with others outside the organization in a webinar-style setting. Both video conferencing tools make it easy for anyone to log in and join a virtual meeting. Microsoft Teams, on the other hand, tends to be a better choice for conferences that happen between participants inside the company. The platform is better designed for those organizations currently using Teams for instant messaging, file sharing and other collaboration services.
Integration with first- and third-party applications and components. Cisco Webex, for example, can be tightly integrated in a hybrid cloud architecture with its on-premises unified communications (UC) platform. Microsoft Teams has native integration with the Office 365 suite of applications and services. All three vendors have a wide range of third-party application integrations that can provide additional features, capabilities and efficiencies. When deciding which platform is right for your organization, it's important to first determine what applications you wish to integrate into the video conferencing software, and then verify that those applications are fully compatible.
Product support. Each vendor handles support differently. To receive dedicated phone support for both Microsoft and Zoom video conferencing tools, the organization must purchase a more expensive license. Otherwise, support is handled via an online portal or text chat tool. All of Cisco's Webex licenses, on the other hand, offer phone support -- either during business hours or 24/7 -- depending on the license chosen. If your organization requires round-the-clock phone support, be sure to choose the right vendor and licensing model.
Pricing and licensing options. Both Microsoft and Zoom offer freemium versions of their products -- although they're fairly limited in what they can do. However, these free trial versions allow an organization to assign licenses to all employees in a cost-effective way. Cisco takes a different approach to companywide license provisioning. For companies that require 100 or more Webex licenses, Cisco offers a Collaboration Flex Plan. This enables organizations to deploy fully functional licenses to all employees. Cisco then only charges for licenses that are used on a regular basis.
Even though all video conferencing tools largely perform similar duties, there are certain differences between products and vendors that may make one platform a better fit for your organization.
Looking beyond freemium licenses, Zoom and Cisco video conferencing tools offer tiered monthly or annually paid license plans. The main differences between the licenses include the number of simultaneous participants, online storage capabilities, toll and toll-free number capabilities, and what level of support the customer receives. Microsoft Teams offers a single paid license that's part of its bundled Office 365 offering. Organizations can also purchase add-on Teams features separately. These features include audio conferencing, calling plans and licenses for conference room hardware.
Now that we have a better understanding of key video conference platform differentiators, let's take an in-depth look at each of the video conferencing tools profiled here to see specific differences from an architecture, features and functionality perspective.
Cisco Webex
Cisco has recently added collaboration features. For example, Webex went through a major user interface refresh in mid-2018. The changes were designed to help streamline how end users set up and join meetings. The platform also boasts multiple ways to connect via PC, Mac, mobile devices, room kits, smart boards and personal desktop conferencing devices. Webex Meetings has been integrated with another collaboration suite previously known as Cisco Spark. Now known as Webex Teams, the tool suite offers collaborative chat, file sharing, screen sharing, whiteboarding and public switched telephone network (PSTN) calling.
From an architectural standpoint, Webex Meetings provides a fully SaaS-based model as well as a hybrid cloud option with the deployment of an on-premises Webex Meeting server inside the corporate LAN. This is useful for businesses that require resiliency and data loss prevention security.
Regarding advanced features, Cisco is deploying what it refers to as Cognitive Collaboration Solutions. Here, the company has developed an artificial intelligence to help facilitate intelligent teamwork capabilities. Specific instances of this technology within Webex include the following:
Proactive join: This function immediately identifies users who walk into a Webex-outfitted meeting room and asks if they would like to automatically join their meeting.
Facial recognition: Webex meetings can identify and display the names and titles of all participants in a meeting. This is especially useful for identifying participants sharing a conference room video camera system.
People insights: This function automatically provides pertinent profile and user information for the meeting participants.
Webex assistant: This voice command AI feature enables users to join Webex meetings, jump in a personal room or make calls with voice commands. Users can also perform other functions with compatible Webex room devices and their voice, including volume control, microphone muting, start and stop recording, and view meeting room schedules.
Microsoft Teams
Until recently, Microsoft customers used the video conferencing capabilities within Skype for Business that came bundled with many Office 365 licenses. That all changed in late-2018 when Microsoft moved to its new Teams collaboration platform. Microsoft built the Teams platform from the ground up and is heavily integrated with other Office 365 apps, such as Exchange, Word, Excel, PowerPoint and OneNote. The Teams platform provides added benefits when it's used in conjunction with other Microsoft products. This includes in-app authoring of Office apps, simplified content sharing and the ability to use AI to identify meeting dates and times that work for all participants.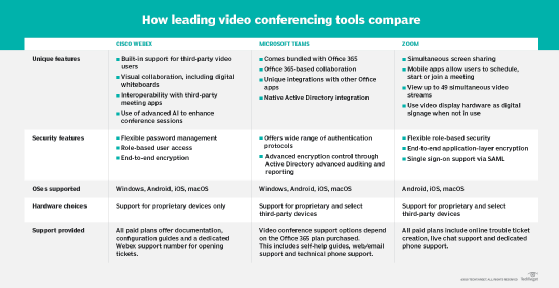 Looking specifically at video capabilities, Microsoft supports several first- and third-party room systems, smart boards, phones and personal-use video devices. Teams can also use webcams and smartphone and tablet cameras with Windows, Mac or mobile operating systems. Thus, options for video conferencing hardware and software are plentiful.
Direct Routing is another feature of Teams that may be of interest to larger enterprises. This is essentially a bring-your-own-PSTN offering that lets users connect their own session border controller directly to the Office 365 cloud. This enables the company to integrate its current PSTN and corresponding phone numbers into Teams without having to port them over to Microsoft. It's great for organizations that want to continue using their current PSTN carrier and on-premises phone system while also integrating it into Teams.
Zoom
Zoom is a pure play, web conference, video conference and team collaboration platform that was created in 2011. While most organizations choose to use the product's SaaS model, there's a hybrid cloud option for companies that want to maintain all voice, video and data sharing within their corporate network. Zoom comes with collaboration tools that include video meetings, webinars, conference rooms, VoIP, team messaging and file sharing. Most companies, however, use Zoom as a video webinar and large video conference tool for both internal and external-facing participants. Zoom is unique because it can display up to 49 video streams on a single screen. That's vastly more simultaneously viewed streams when compared to Cisco or Microsoft.
Zoom sells its own proprietary conference room video hardware. Alternatively, the company also supports most standards-based Session Initiation Protocol and H.323 audio and video endpoints. Both Cisco and Polycom video endpoints can be set up for one-touch start to simplify the video conference join process. This level of flexibility in terms of hardware support may be of interest to organizations that want to reuse the video conferencing hardware they currently own.
Other unique features of Zoom include the ability to use video endpoints as digital signage when not in use. The company also sells conference room scheduling displays that can be mounted outside of conference rooms. These allow employees to see if a room has been booked, for how long and by whom. Users can also join a virtual conference using the Zoom PC, Mac and mobile device apps.
Dig Deeper on Video conferencing and visual collaboration