Fotolia
Cisco brings Webex controls to G Suite for business
A Webex add-on will give users the ability to manage the settings of Webex meetings within G Suite for business. It's the latest in a series of integrations between Cisco and Google.
Cisco is partnering with Google to launch an add-on to give users access to advanced Webex meeting controls in G Suite.
Cisco launched an app last year that gave users the ability to schedule a Webex meeting when adding an event to Google Calendar. The new add-on, expected this quarter, will let users control the settings for those Webex meetings within G Suite for business.
Users will be able to designate hosts and manage the dial-in options that are available to participants -- adding or removing a toll-free number, for example. They will also be able to password-protect individual meetings and decide whether participants can join before the host.
More important, the add-on will let users toggle among meeting templates. For example, many companies use a different group of settings for internal and external meetings.
Cisco, Google tighten partnership in competition with Microsoft
Cisco and Google have been working to tighten integrations between their collaboration and productivity platforms. In contrast, Cisco relies on public APIs for integrations with Microsoft.
Google competes with Microsoft Office 365 in the cloud productivity market, while Cisco competes with Microsoft Teams and Skype for Business in the cloud calling and collaboration market.
The latest integration between Google and Cisco should encourage more businesses to use G Suite and Webex in combination, said Wayne Kurtzman, analyst at IDC.
"Cisco is the best way to maximize its value is to have native integrations to the more popular collaboration products," he said.
An upcoming integration will bring together Cisco Webex Teams, a team messaging app, and Google Drive, a file storage service.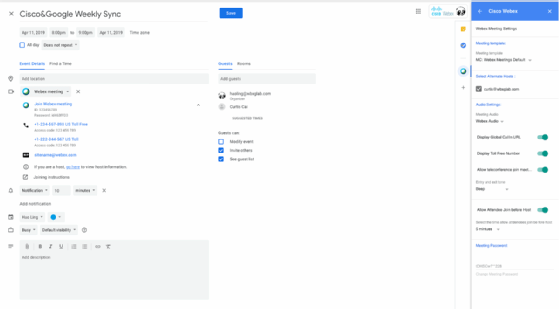 G Suite for business launches beta of add-on framework
Cisco is among a handful of early partners for a add-on framework in G Suite for business, along with Box, Asana, Evernote, Workfront and Copper. The framework is designed to reduce the number of apps among which users need to toggle.
Google launched the framework for its calendar, meeting and note-taking apps last year, giving users the ability to open a sidebar to access those services within G Suite apps, such as Gmail.
Google announced last week it would let partners create sidebars for third-party apps. Users will soon be able to access customer relationship management software within Google Docs, for example, or create a task in a project management app from Gmail.
G Suite for business customers must apply to access Google's beta program for the framework.
Dig Deeper on Video conferencing and visual collaboration