Cisco Webex is a video conferencing and collaboration product suite. This cloud-based collaboration suite is comprised of software including Webex Meetings, Webex Teams and Webex Devices. The Webex suite is a merger of Cisco's Webex web conferencing platform and the Cisco Spark team collaboration app. The services rebranded under Webex in April 2018 in order to centralize Cisco's collaboration portfolio.
Cisco Webex products provide capabilities including online meetings, team messaging and file sharing. The suite is considered a leading collaboration platform in the unified communications area and is geared toward both small group collaboration for SMBs as well as large group meetings for enterprise-wide deployments.
Users can join video conferences from a desktop or mobile app. A web version of Webex is available as well -- although more features are available on the other versions. Users can also share files and participate in team messaging features. The service is supported by both Cisco Webex Meetings and Webex Teams apps.
What does Cisco Webex offer?
Webex Teams
Webex Teams is a cloud-based team collaboration application that features video meetings, messaging, file sharing and whiteboarding. The software offers a persistent virtual meeting room for in-office and remote teams to collaborate. While Webex Teams is primarily a cloud-based service, it also supports hybrid and on-premises systems.
Webex Teams offers third-party app integrations ranging from project management services, such as Asana and Pivotal Tracker, to customer relationship management, such as Salesforce and Zendesk. Webex Teams also offers integrations via APIs through its Cisco Webex for Developers program. The platform allows developers to build custom apps that extend Teams capabilities into daily workflows.
Webex Meetings
Webex Meetings is Cisco's cloud-based web and video conferencing service that enables global and virtual teams to collaborate on mobile devices and standards-based video systems in real time. Webex Meetings includes features such as screen sharing, meeting recording, customizable layouts as well as meeting broadcasting.
Webex Meetings integrates with Slack and Microsoft Teams, which allows users to start or join Webex video meetings directly from either platform. Webex Meetings offers calendar integrations including Outlook, Office 365 and Google Calendar, and also integrates with IBM Connections and Microsoft OneDrive for file sharing.
Webex Meetings features personal rooms that users can customize, schedule meetings or leave open for ad hoc meetings. Users can also schedule meetings from Webex Teams, join Webex meetings from Teams or continue conversations in Teams after a meeting ends.
Webex Meetings supports large-scale events such as webinars and virtual training. Webex Events supports interactive webinars and events for up to 3,000 attendees. Webex Training supports live or on-demand training sessions with capabilities such as testing and automated grading for over 1,000 participants. Webex Webcasting supports large-scale virtual events for more than 40,000 participants.
Webex Meetings also has a customer service offering called Webex Support. The service includes capabilities such as live chat, video conferencing, remote desktop control, and automatic queuing and routing.
Webex devices
Cisco Webex includes a range of meeting room devices with its Webex Room Series and Webex Board. The Webex Room Series includes kits of devices with a camera, codec, speakers and microphone for small and midsize meeting rooms. The kits integrate with flat-panel displays and support cloud and on-premises deployments. The Webex Room Kit supports meeting rooms that seat up to seven people, and the Room Kit Plus supports rooms that seat up to 14 people.
The Webex Room 55 supports small to medium meeting rooms that seat six to eight people. It includes a 55-inch 4K display, camera, codec, microphones and speakers. The Webex Room 70 supports larger meeting rooms that seat up to 14 people and includes single or dual 70-inch 4K displays, an integrated camera, microphones and speakers. Both Webex Room 55 and Webex Room 70 are built for cloud and on-premises deployments and offer advanced capabilities, such as speaker tracking and automatic framing and wake-up.
The Webex Board features a 55-inch or 70-inch interactive whiteboard that offers wireless presentation, audio and video conferencing and content annotations. Content created on the Webex Board is stored in the cloud and can be accessed from its associated virtual workspace within the Webex Teams app.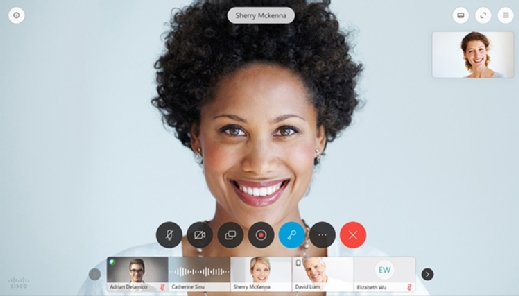 How Webex works
The Webex backbone network powers all meetings, regardless of whether the user joined from the Webex Meetings or Teams apps. The software suite also supports on-premises and hybrid deployments with its Webex Hybrid Service. The hybrid service connects Webex Teams' cloud-based capabilities to on-premises Cisco communication systems. Cisco Webex also offers Video Mesh, a hybrid media service that keeps local users on premises and pushes remote or overflow users to the cloud.
WebEx Meeting Center allows users to start, schedule and conduct meetings. Users can prepare an invitation to a meeting with Microsoft Outlook. To invite attendees, a user only has to have their email address. The user can then join using their computer or smartphone. The device being used can also be interchanged mid-conference.
Training Center allows for users to set screen views automatically -- based on file type. So, if a user wants to display a PowerPoint presentation, the view will display the slides automatically. Attendees can also edit files once given permission.
3,000 attendees can be supported with the use of Event Center. These large meetings can be interactive with the support of chat and polling features.
Webex also includes a cloud-based phone system, Webex Calling. Webex Calling allows users to call anyone from Cisco IP phones or directly from Webex Teams. Users can also connect Cisco phone systems to Webex Teams with the Hybrid Service. However, PSTN services must be purchased from a third-party provider. Webex Teams supports 911 calling with the ability to set a service address per PSTN telephone number.
Benefits and drawbacks of Webex
There are popular video conferencing tools such as Zoom available, so Webex has to provide a collection of features that can draw consumers away from competition. Benefits of Webex includes:
Voice options from phone or computer audio, HD video.
Users can join calls on multiple devices, and can switch devices mid-call.
Users can share various files among participants, and content sharing extensions are available for web use.
Annotation tools are available.
Calls can be recorded.
Chat and screen share features are available.
Screens can be controlled remotely.
Added security features.
Integrates with applications such as Cisco and Microsoft Teams.
Disadvantages of Webex, however, include:
Cost is higher in comparison to Microsoft Teams and Zoom.
Some users may find the menu system and UX hard to navigate intuitively.
Glitches with audio have been experienced for non-Webex users when connecting to audio.
Some have also found it difficult to migrate from legacy Webex systems.
Webex security
Webex Meetings encrypts sensitive data at rest and encrypts all media streams during sessions. End-to-end encryption is optional for customers. Webex Meetings also has ISO 27001, SSAE-16 and SOC 2 Type 2 certifications. Webex Meetings is also certified with the Federal Risk and Authorization Program, or FedRAMP, for government organizations.
Webex Teams offers end-to-end messaging encryption with user-held keys, which provides an added layer of security by enabling customers to control access to message stores. Webex Teams also has SOC 2 Type 1 and ISO 27001 certifications.
Cisco Webex plans and price
Cisco Webex has five different versions at different price points.
A free version is available, where users can host up to 100 participants on calls, 1 GB of cloud storage and each call is limited to 50 minutes.
The starter version is the cheapest non-free variant, at $13.50 per month, per user. Storage is upgraded to 5 GB, and calls limits are now increased to 24 hours. This version also includes more features such as call recordings and integrations with other apps (such as Microsoft Outlook and PowerPoint).
The plus version costs $17.95 per month, per user. Participant capacity increases from 50 to 100 in this version. In addition, 24/7 technical support is also available.
The business version is priced at $26.95. Storage is upgraded to 10 GB, and participants per meeting are also increased up to 200.
The enterprise plan is a customizable plan for businesses. It offers up to 100,000 participants per meeting and unlimited cloud storage.
History of Cisco Webex
WebEx, as it was previously called, was formed in 1995 by Subrah Iyar and Min Zhu. Other notable figures at WebEx included the former president of Zoom, Dave Berman. At WebEx, Berman served as president of worldwide sales and services.
WebEx's first public offering was in 2000. In 2005, WebEx acquired Intranets.com. This acquisition allowed WebEx to provide and offer online collaboration tools to its customers. For example, WebEx was able to provide collaboration tools such as document sharing and calendars, while Intranets.com could provide access to the Webex communications environment.
WebEx, as a company, was listed on the NASDAQ National Market and the NASDAQ Global Select Market in 2006. One year later, Cisco Systems acquired the company. Cisco bought WebEx in order to compete against Microsoft and other collaboration software vendors. It was renamed Webex Meetings in April 2018.
Cisco launched a new service in 2014. The product was rebranded as Cisco Spark in 2015, and renamed Webex Teams in April 2018. The service officially became Webex Teams, with a new user interface, in June 2018.
In April 2018, the Webex suite was put together as a merger of Cisco's Webex web conferencing platform and the Cisco Spark team collaboration app. This was done to centralize Cisco's collaboration portfolio.
This was last updated in
December 2020
Continue Reading About Cisco Webex