Fotolia
Cisco adds Webex Teams integrations for OneDrive, SharePoint
New Webex Teams integrations with Microsoft's OneDrive and SharePoint are the latest in a series that link the Cisco collaboration suite with Office 365 productivity tools.
Users of Cisco Webex Teams can now edit files stored in Microsoft OneDrive and Microsoft SharePoint Online from within the Cisco client. The integrations headlined a series of updates to the collaboration app unveiled this month.
The Webex Teams integrations with Microsoft's document storage apps let users upload files from those platforms to the Cisco app. Users can preview, share or edit the files without leaving the Cisco interface.
Cisco has made interoperability with the productivity tools of Office 365 a priority. Last year, the vendor took steps to make Webex Meetings work as seamlessly as possible with Microsoft Exchange and Microsoft Teams. For example, users can join Webex Meetings with one click in Microsoft Teams.
While Cisco goes head-to-head with Microsoft in the unified communications and video conferencing markets, Cisco lacks the word processing and file storage apps that businesses need. And Microsoft has a near monopoly on those tools, seriously challenged only by Google's G Suite.
However, Cisco has had to rely on Microsoft's open APIs. Microsoft has said it sees no need to work directly with Cisco to build connections between the two vendors' collaboration portfolios. The divergence is likely causing headaches for some businesses that rely on products from both vendors.
The Microsoft-Cisco rivalry may be going through a particularly tough phase now, because interoperability among business apps has become more important, said Raúl Castañón-Martínez, analyst at 451 Research.
"Vendors will need to adapt their product strategy to focus on their customers' workflows, as opposed to a product- or vendor-centric strategy," Castañón-Martínez said. "This is why Cisco is enabling its Webex suite to work with [Office] 365."
Webex Teams is still a young product, and Cisco must continue adding Webex Teams integrations to make the platform useful to customers, said Wayne Kurtzman, analyst at IDC.
"Having Microsoft Office and G Suite take care of most of the document needs allows Webex [Teams] to become the center of work, along with Webex Meetings," Kurtzman said. "The more content you have, the more beneficial AI and the Webex Teams environment will become for the average user."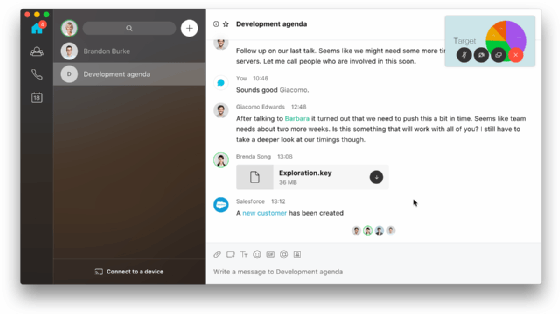 Cisco updates UI, adds features to Webex Teams
Beyond the Webex Teams integrations, Cisco tweaked aspects of the Webex Teams video conferencing interface to more closely resemble the user experience in Webex Meetings. What's more, Webex Teams users can now connect to meeting audio using the same Call Me and Call In features available in Webex Meetings.
Cisco has been working to streamline its overlapping portfolio of communications apps, including Webex Teams, Webex Meetings, Cisco Jabber and the recently acquired BroadSoft UC-One.
The January update to Webex Teams also expanded the app's search capabilities and gave users the ability to attach GIFs and emojis to their messages in the web-based client. Because CIOs are unlikely to have requested the latter, the move demonstrates that Cisco is listening to users, Kurtzman said.
"In fact, GIFs and emojis get used at a tremendous rate in most collaborative enterprises," Kurtzman said. "So, this will make the platform a bit stickier for the users."