FotolEdhar - Fotolia
Cisco to release add-on for Webex meeting transcription
A new transcription service from Cisco will help users take notes during Webex meetings.
Cisco has created a Webex add-on that uses technology from the Voicea acquisition to assist customers with notetaking during online meetings. The vendor plans to launch the service around the end of March.
The new service will transcribe meetings in real time and provide a searchable database of past transcripts. It will also let users highlight critical moments in a Webex meeting, such as when a follow-up task is assigned. Users will be able to flag those items in real time by saying, for example, "OK Webex, create an action item."
Cisco is not the only collaboration vendor working to deliver these kinds of features. Microsoft, Zoom and BlueJeans have also invested in technologies that make it easier to schedule and conduct meetings -- and to take action following meetings. Zoom became the first major vendor to offer automated transcribing of meeting recordings in early 2018.
Businesses will eventually expect all collaboration vendors to provide the kinds of features contained in Cisco's new service, said Irwin Lazar, analyst at Nemertes Research. For now, Cisco has a leg up on some competitors because it owns the technology powering its features.
In contrast, Zoom relies on a partnership with the startup Otter.ai to offer real-time transcription in meetings. That leaves Zoom at the whims of a third party's research and development decisions. Plus, a rival to Zoom could acquire the startup at any time. Other vendors use voice services from AWS.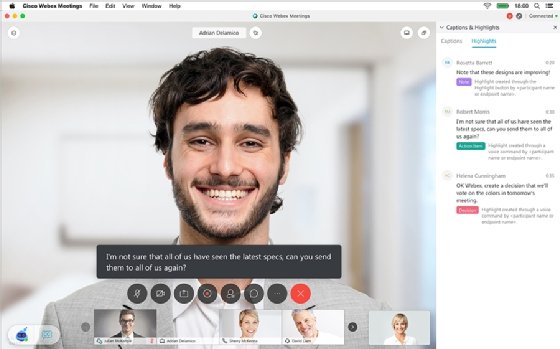 "I think, ultimately, all of the meeting app vendors will need to own their own AI technology," Lazar said. Cisco acquired the startup Voicea for an undisclosed sum in September 2019. Cisco has also integrated the company's technology with its contact center platform to transcribe customer calls.
Cisco's new service for Webex meetings will be available to customers for an additional monthly fee based on active users. Businesses that have enterprise-wide contracts with Cisco may get access to the service at a discount.
In the future, Cisco plans to integrate the service with third-party apps. That would allow action items flagged in a Webex meeting to flow directly into a project management tool like Asana, for example.
Using technology to curate relevant information from meetings will make it easier for users to get work done, said Wayne Kurtzman, analyst at IDC. Businesses will make applying AI to their collaboration workflows a priority over the next decade, he said.
Cisco also announced this week that the Webex Assistant would soon be able to understand voice commands in Spanish. The service, which lets users schedule and control meetings with their voice, has only recognized English since its launch in 2017.
Cisco unveils USB video bar for huddle rooms
In other Cisco news, the vendor unveiled a new video conferencing device for small meeting rooms, also known as huddle rooms, which hold between two and five people.
The new product, called the Cisco Webex Room USB, is a cheaper version of the Webex Room Kit Mini, which began shipping in early 2019.
Unlike the Room Kit Mini, the new product cannot process video on its own; users must connect the device to a PC using a USB cord.
However, customers can purchase a software upgrade for the device that activates a video codec embedded in the hardware. The update will turn the device into a Room Kit Mini.
Cisco said it developed the Webex Room USB to give businesses a cheaper option for outfitting huddle rooms. The vendor did not announce how much the product would cost.
"Often, Cisco has been known as very expensive," said Sri Srinivasan, general manager of Cisco's team collaboration group. "We're now bringing a device all the way at the low end."