Fotolia
BlueJeans Network to release add-on for meeting productivity
BlueJeans Network will release an add-on later this month to let users capture highlights during video meetings.
BlueJeans Network plans to release a premium service this month designed to make recordings of its online meetings more useful. Next month, the vendor expects to start letting users automatically transcribe meetings.
The slated release in mid-October of BlueJeans Smart Meetings is the first step in a multi-year campaign by the vendor to add productivity tools to its video conferencing app. The new service is currently in a limited beta.
The paid add-on will let users capture highlights of video meetings conducted using BlueJeans's cloud service. When a decision is made, or an item is flagged for follow up, users will be able to press a button to generate a video clip of that discussion.
The 40-second clip will include the 20 seconds before and the 20 seconds after the user chooses to make a highlight. Users will then be able to label the clip as an "action item," "decision" or "new topic" -- and tag colleagues that need to know about it, who will automatically receive an email with a link to the clip.
Those clips -- along with full meeting recordings and transcripts -- will be accessible through a new online meetings hub. In the future, BlueJeans plans to let its users download those records directly into file-storage apps like G Suite, OneDrive, Box and Dropbox.
The highlight reel could help people who missed a meeting get caught up. Instead of watching an hour-long recording, the user could watch 10 minutes of highlights. BlueJeans also hopes the feature will be useful for onboarding new employees.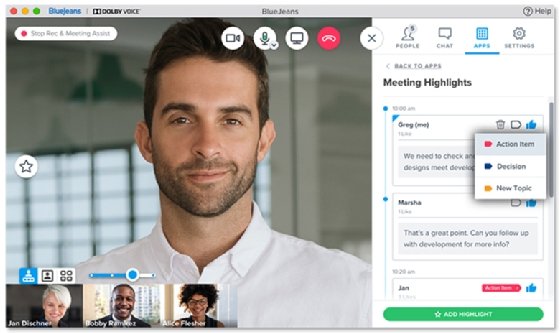 For now, the features included with a subscription to BlueJeans Smart Meetings all require user interaction. But the vendor says it's looking into ways to use AI and machine learning technologies to automate note-taking and record-keeping during meetings.
BlueJeans also wants to embed its video conferencing capabilities into more of the business tools that people use every day, like Zendesk and ServiceNow. So far, the vendor has integrated with the customer relationship management app Salesforce.
Online meeting vendors are all starting to invest in features that make their apps more valuable to users before, during and after meetings, said Irwin Lazar, analyst at Nemertes Research. They need those tools to compete with apps like Microsoft Teams and Cisco Webex Teams, which combine calling, messaging and video meetings.
Earlier this week, for example, GoToMeeting added the ability to take notes and screenshots during meetings. The challenge for IT buyers will be sorting out which apps to use when their collaboration tools have overlapping features, Lazar said.
"In the long term, I think the meeting vendors, while adding their own ability for notes, action items, etc., to their apps, are going to have to ensure that they are able to share that information with other team collaboration apps like Slack, Webex Teams and Microsoft Teams," Lazar said.
Dig Deeper on Video conferencing and visual collaboration