FotolEdhar - Fotolia
LogMeIn slashes GoToMeeting prices amid UI overhaul
LogMeIn cut GoToMeeting prices roughly in half for premium tiers and overhauled the video conferencing app's user interface to focus on video, rather than content sharing.
LogMeIn has significantly reduced the price of GoToMeeting in connection with its launch this week of a completely redesigned version of the video conferencing app.
The new monthly fees are about half of what they were before for 150-participant and 250-participant licenses, making the app roughly the same price -- or in some cases a bit cheaper -- than competitors Zoom, BlueJeans and Cisco Webex.
GoToMeeting, which LogMeIn acquired from Citrix for $1.8 billion in 2016, initially gained traction as an alternative to Cisco Webex. But anecdotally, many customers have abandoned the app for Zoom in recent years, analysts said. The new GoToMeeting prices could help undo some of that damage.
"I think in some ways they needed the price break to get customers to look at them again," said Zeus Kerravala, founder of ZK Research, based in Westminster, Mass. "If they are going to re-establish themselves and grab some of their customer base back, then I think it had to come with a new pricing model."
Meanwhile, the new interface makes video the focal point of meetings -- a pivot away from GoToMeeting's longstanding focus on content-sharing. Users will also be able to join a meeting 65% faster now, the vendor said.
The redesign brings GoToMeeting in line with the video-centric design of other major video conferencing apps. It also creates a common user experience across the web, desktop and mobile apps. LogMeIn says 25 million people use its GoTo suite every month.
"While the buzz has been around Zoom, GoTo has a large installed user base," said Irwin Lazar, analyst at Nemertes Research. "To retain them in an increasingly competitive market, GoTo had to improve their app and close the feature gaps with their competitors."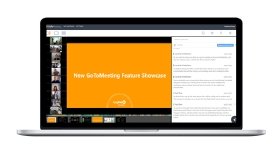 LogMeIn also launched some new productivity features, such as the ability to take notes and screenshots during meetings. Users will have access to meeting recordings and transcripts through a new online hub.
For IT administrators, GoToMeeting now generates more detailed diagnostic reports to help troubleshoot poor audio or video quality. Plus, the vendor said it had completely reworked its audio backend to improve quality.
LogMeIn made all of the same design changes and feature enhancements to GoToConnect, an offering that combines GoToMeeting with a cloud calling service powered by technology the vendor acquired from Jive Communications.
The vendor launched GoToConnect earlier this year in response to the trend in the market towards collaboration apps like Microsoft Teams and Cisco Webex Teams that combined calling, messaging and meetings.
"This whole industry has become a lot more competitive," Kerravala said. "GoToMeeting hadn't had a real facelift in years."
Dig Deeper on Video conferencing and visual collaboration