FotolEdhar - Fotolia
8x8 Video Meetings launches for free in challenge to Zoom
8x8 Video Meetings has launched as a free, stand-alone app. It will rival free versions of Zoom and GoToMeeting, as 8x8 looks to use the offering to funnel businesses into its UCaaS platform.
8x8 has launched a free version of its video conferencing app, hoping to lure businesses into subscribing to its cloud-based calling and contact center suite.
8x8 is challenging Zoom and LogMeIn in launching its first stand-alone video product. The move comes as those vendors have been seeking to penetrate 8x8's primary market: business calling, also known as unified communications as a service (UCaaS).
Zoom has aggressively expanded its cloud-based business calling service over the past year while LogMeIn has pursued product consolidation. The company recently folded its flagship video conferencing platform, GoToMeeting, into a broader UCaaS offering called GoToConnect.
8x8 Video Meetings places no limit on how long meetings can last. The free version of Zoom provides unlimited one-on-one meetings but caps group meetings at 40 minutes. GoToMeeting's free offering limits all meetings to 40 minutes.
"This is certainly a compelling new entrant that will challenge Zoom and GoToMeeting's freemium offerings," said Mike Fasciani, analyst at Gartner.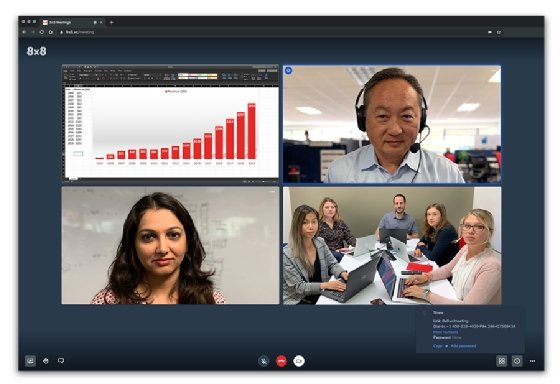 But only 50 people can meet at once on 8x8's platform. That's fewer than the 100-person limit of Zoom's free version, although more than GoToMeeting's three-person cap. (Zoom's paid service can support 1,000 participants, while GoToMeeting's premium tier can support 3,000.)
Users can access 8x8 Video Meetings without registering. However, signing up with an email address unlocks benefits such as calendar integration, team admin controls, and personalized virtual meeting rooms. In turn, 8x8 will try to convince users who register to become paying customers.
8x8 Video Meetings launched in September for businesses subscribed to the vendor's X Series suite, which includes calling, messaging and contact center apps. 8x8 built the product using the open source software of Jitsi, which the vendor acquired from Atlassian last year.
Businesses get a couple of perks for using 8x8 Video Meetings as part of the X Series. For those customers, 8x8 Video Meetings includes a call-me feature for connecting to a meeting's audio. Also, the video app integrates with third-party services, such as single sign-on software.
In the future, 8x8 might create a paid subscription tier for 8x8 Video Meetings. The offering could include advanced features like transcription and meeting room controls, said Eduardo Cocozza, a senior marketing director at 8x8.
Because it relies on WebRTC, 8x8 Video Meetings lets users conduct meetings in web browsers like Chrome and Firefox without downloads or plugins. But desktop and mobile apps are available for those who want them. Highfive, Cisco and BlueJeans have also enabled browser-based video conferencing in recent years.
8x8 is currently beta-testing meeting room software for connecting its video app to software-agnostic endpoints from vendors like Logitech and Poly. 8x8 is in the process of cementing partnerships with hardware vendors for preintegrated room kits, Cocozza said.
Dig Deeper on Video conferencing and visual collaboration