sommai - Fotolia
Microsoft Teams gains 13M users with help from Office 365 base
Around 10% of Microsoft's base of Office 365 commercial subscribers have begun regularly using Microsoft Teams, leaving the app with more users than Slack.
After two years of aggressively pitching Microsoft Teams to the 180 million commercial users of Office 365, Microsoft has revealed that around 10% of those customers have begun using the app regularly.
Microsoft said 13 million people now use the Teams cloud-based calling and collaboration app every day, and 19 million people use it at least once per week. The most common commercial subscription tiers for the Office 365 cloud-based productivity suite include Teams at no additional cost. Microsoft also offers a one-year free trial of the app.
The company seemingly waited to release its first public accounting of Teams adoption until the app had more users than competitor Slack, which reported 10 million daily active users in January. Previously, Microsoft had only revealed how many organizations were using or piloting Teams -- more than 500,000 as of March.
Microsoft released a graph showing its count of daily active users surpassing Slack's, a direct shot at Slack that underscores how seriously the tech giant -- valued at $1 trillion -- is taking the threat posed by the upstart vendor, which generated revenue of $400 million last year. Team messaging is at the core of both apps, but only Microsoft's has native video conferencing and advanced calling features.
The user figures prove Teams has momentum, which isn't surprising, given the vendor's large base of Office 365 customers, said Irwin Lazar, analyst at Nemertes Research, based in Mokena, Ill. Anecdotally, most companies Nemertes encounters that are adopting Teams already have access to it for free through Office 365, Lazar said.
Microsoft has stopped innovating on Skype for Business and has been encouraging users of that app to switch to Teams. The company no longer lets small businesses sign up for cloud-based Skype for Business Online. And last fall, Microsoft began an automated overnight process of moving existing small-business customers from cloud-based Skype to Teams.
In early July, Microsoft automatically installed the Teams desktop app on many Windows devices linked to existing deployments of Office ProPlus, the suite of apps that comes with subscriptions to Office 365. Microsoft plans on more auto-installs over the next six months.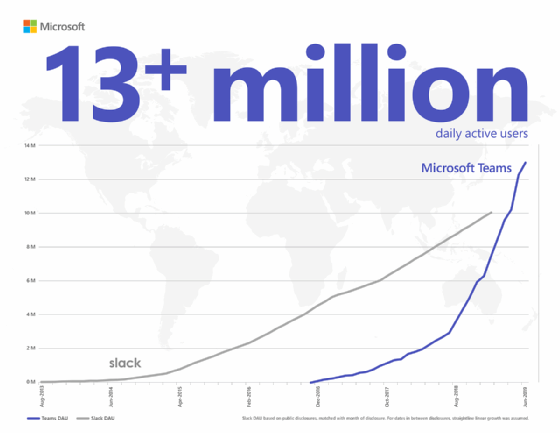 The graph released by Microsoft shows Teams adoption increased exponentially within the past year. In January, when Slack said it had 10 million daily active users, Teams seemingly had fewer than 8 million. However, Microsoft declined to release the data on Teams adoption used to create the graph. The company said users needed to "take action" in Teams to be considered active.
All eyes are now on Cisco, which has so far declined to say how many people are using the Cisco Webex Teams messaging app. Rather, Cisco has chosen to highlight the momentum of the on-premises unified communications client Cisco Jabber, which now has 45 million monthly active users.
In a recent Nemertes Research survey of 645 organizations, 34% of respondents said they were using a team collaboration app, and another 30% said they were planning to do so soon.
The vendor selection was as follows:
57% for Microsoft Teams;
39% for Cisco Webex Teams;
18% for Google Hangouts Chat; and
17% for Slack.
A slight majority of companies that had adopted team collaboration said they were using at least two apps, Lazar said.
Microsoft also announced last week that it was planning to integrate Teams with cloud contact center platforms from Five9, Nice inContact and Genesys. In the Nemertes survey, such integrations were the fourth-most demanded capability by businesses using team collaboration apps -- behind integrations with calling, meetings and analytics platforms.