Fotolia
Microsoft to push Teams desktop app to existing Office 365 accounts
Microsoft plans to auto-install the Teams desktop app on Windows devices linked to existing Office ProPlus accounts, an escalation of its push for Teams adoption among Office 365 users.
Microsoft plans to automatically install the Teams desktop app on Windows devices linked to existing Office ProPlus accounts, the suite of desktop applications that comes with subscriptions to cloud-based Office 365.
The move is an escalation of Microsoft's campaign to get the 180 million users of Office 365 to adopt Teams. The company has declined to say how many people are using Teams, but said more than 500,000 organizations have opened accounts.
"That's quite a big deal," said Tom Arbuthnot, principal solutions architect at Modality Systems, a Microsoft-focused systems integrator. "Microsoft should see a bump in [Teams] adoption from this just because it's showing up in people's machines."
Microsoft began automatically installing the Teams desktop app with new purchases of Office 365 earlier this year. Now, the company will push the Teams desktop app on existing customers. Those customers already have access to Teams as part of Office 365, but many have not used it.
Those who have Microsoft update their ProPlus desktop apps monthly will get Teams on July 9, while those who get less frequent updates will get the app either in September or January. Businesses can install the app manually at any time and can opt out of the auto-installation.
The auto-installs will not affect Mac users, nor will they affect businesses using Office 2019, the nonsubscription version of the same suite of apps.
Microsoft to bring Kaizala messaging to Teams
In other Teams news, Microsoft will add the communications features of large-group chat app Kaizala to Microsoft Teams over the next 12 to 18 months. Most significantly, the consolidation could make it easier for Teams users to chat with external collaborators.
Microsoft launched Kaizala in 2017 as a low-bandwidth, mobile-only chat app targeted at enterprises with decentralized workforces. The app has gained some traction among businesses outside of the United States, including McDonald's Turkey and Philippine Airlines.
Similar to WhatsApp, Kaizala lets businesses add users to chat groups using only a phone number, making it easier to communicate with people outside of an organization's Azure Active Directory, such as partners, suppliers and customers. This capability is expected to come to Microsoft Teams by the end of 2020.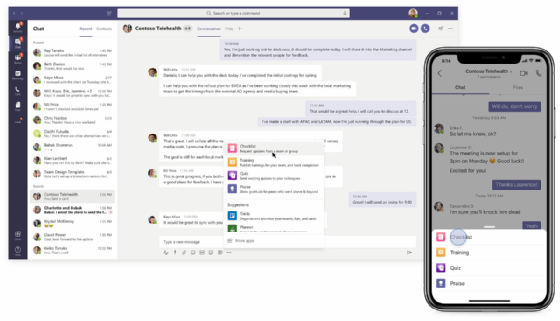 The first set of Kaizala features -- its checklist, training, quiz and praise widgets -- are slated to arrive in Teams by the end of 2019. Next year, Microsoft will give businesses using Teams the ability to create groups in the same style as Kaizala, which supports large chat groups in which various subgroups have restricted access to features.
The addition of Kaizala will aid Microsoft's push to sell Teams to nonoffice workers. In recent months, Microsoft has added features such as shift scheduling and location sharing to appeal the app to retail workers, delivery drivers and other employee demographics.
"Kaizala use cases included field-worker communications, and for supply chain," said Irwin Lazar, analyst at Nemertes Research, based in Mokena, Ill. "It makes sense that they would integrate it into Teams so that those using Teams and Kaizala could communicate through a single app."
Microsoft plans to shut down the paid version of Kaizala eventually. But, for now, the app remains available to Office 365 customers globally and will continue to receive regular updates from Microsoft. It remains unclear whether Microsoft will shutter the free version of Kaizala.