Fotolia
Challenges lie ahead following Slack public offering
Following Slack's public debut, analysts say the company needs to boost enterprise sales and retool third-party integrations to attract users who aren't as tech-savvy.
Slack has reason to celebrate this week. The 5-year-old team messaging startup began trading on the New York Stock Exchange Thursday as one of the hottest up-and-comers in the tech industry -- now valued at $19 billion.
But the company's success is a double-edged sword. Slack must now deliver results for Wall Street every quarter, and it will be under pressure to start generating cash. Despite strong revenue growth, the company has never made a profit, losing nearly $139 million last year.
Slack faces two challenges over the next couple of years following its public offering, analysts said. It must ensure its app appeals to all kinds of office workers, not just to software developers. What's more, it will need to win more enterprise-wide contracts, converting free users into paid ones.
"The onus will be on them to show sustainability, to show growth to the shareholders," Prachi Nema, analyst at IHS Markit, said of the Slack public offering. "It's really up to targeting the next million customers. Where are they going to come from?"
Making Slack integrations work for everyone
Integrations have always been Slack's biggest strength. It has over 1,500 third-party apps -- more than any other team collaboration product -- and has placed that ecosystem at the center of its sales strategy.
The problem is those integrations have historically been styled to appeal to IT professionals, who were the product's earliest adopters. Users access many third-party services through unintuitive slash commands -- for example, typing "/ giphy " to send GIFs.
Slack has been working since last year to make its integrations more interactive, visually appealing and easier to use. That initiative should help the company gain more traction among users who aren't as tech-savvy.
"The cryptical interface that's used with Slack has been very appealing to IT people and developers," said Zeus Kerravala, founder of ZK Research, based in Westminster, Mass. "But a lot of traditional businesspeople really struggle with that, and they wind up using Microsoft Teams or Cisco Webex Teams instead."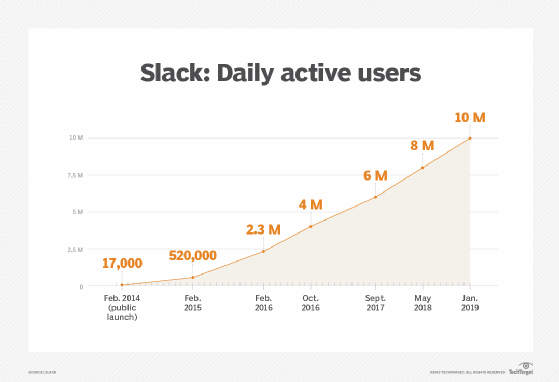 Slack targets enterprises to boost paid users
More than 10 million people use Slack every day. But only 95,000 companies pay for the service -- out of the 600,000 organizations worldwide with three or more users.
Slack has been successful so far at converting free users to paid users. Those efforts must accelerate to deliver the kind of financial results public investors will demand. Slack's revenue growth, although still impressive, has slowed over the past couple of years.
The challenge for upstarts like Slack is figuring out how to sell to large enterprises, said Dion Hinchcliffe, analyst at Constellation Research. Slack has already made some inroads in that market and now counts companies like 21st Century Fox and Oracle among its customers.
But when it comes to enterprise sales, Slack is at a disadvantage against Microsoft, which makes the competing app Microsoft Teams available at no extra cost to users of Office 365, of which there are 180 million.
"I think a lot of people would say that the 800-pound gorilla in the room is Microsoft Teams," Hinchcliffe said. "[Teams] is essentially free, and that's almost an unfair advantage for Microsoft."
Beyond Microsoft, Slack faces competition from Cisco, an established collaboration vendor, as well as tech giants like Facebook, Amazon and Google, which are all testing the waters of the enterprise communications market.
The good news for Slack is it has cash in the bank. With nearly $800 million in reserve, the company opted to forgo a traditional initial public offering in favor of a direct listing, transferring existing private shares to the public market without issuing new stock.
"The way in which they are going public indicates their strength," said Wayne Kurtzman, analyst at IDC. "I think they have been able to demonstrate to investors they are not a one-trick pony."