Fotolia
Number of daily Slack users surpasses 10 million
The number of daily active Slack users surpassed 10 million this month. More than 85,000 organizations now pay to use the messaging app.
Slack added two million daily active users over the past eight months despite increased competition from larger rivals Microsoft and Cisco. However, the rising-star collaboration company remains mum on how many organizations have bought its premium offering for large businesses, Enterprise Grid.
The announcement this week also marked the first time Slack revealed how many organizations were paying for its service: 85,000. Previously, Slack released figures on paid teams, of which there could be multiple within one organization.
Slack said its count of paid customers had increased more than 50% in the past year, although the company did not detail how many users it had included in those accounts. In May 2018, Slack said there were 3 million Slack users across 70,000 paid teams.
Free accounts included, 10 million people now use Slack every day. More than half of those Slack users reside outside the United States, many of them in the American company's second-largest market, Japan. The messaging app launched publicly in February 2014.
In percentage terms, Slack's growth has steadily slowed over the past few years: Daily active Slack users rose 50% between October 2016 and September 2017, 33% between September 2017 and May 2018, and 25% between May 2018 and this month.
But analysts said the vendor's numbers continue to demonstrate strength in the team collaboration market. Slack is also the only major player in that market to reveal, in detail, how many people are using its app.
In September, Microsoft said 329,000 organizations had signed up for Microsoft Teams. But Teams is included in Office 365, and that figure likely includes many businesses that are merely piloting the app with a handful of users. Cisco, meanwhile, hasn't released any usage data for Webex Teams.
"Slack is leading the industry in terms of transparency. We have no evidence they are leading the industry in usage, but it's a reasonable conclusion," said Dave Michels, analyst at TalkingPointz. "I think Slack's growth is very impressive. It's a first mover with a unique name. Many of the other team chat apps are described as Slack-like solutions."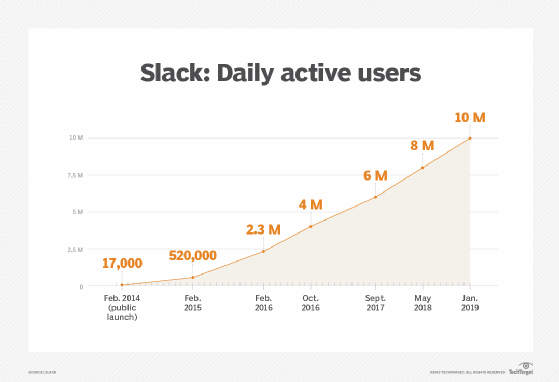 Slack numbers omit Enterprise Grid
Once again, Slack declined to reveal how many organizations were using its premium platform for large businesses, Enterprise Grid. The company hadn't released updated figures on the product since January 2018, when it said 150 companies had subscribed to the product.
Slack owes much of its success to the use of its free app by small businesses and rogue teams within larger organizations. But the company has stepped up efforts over the past year to win company-wide contracts in the midmarket and among enterprises.
Establishing a foothold with those organizations would help Slack demonstrate the potential for long-term financial success ahead of its anticipated initial public offering (IPO) later this year.
Enterprise Grid offers better security and more IT controls than Slack's lower-tier offerings. For example, in September, Slack said it would soon let Enterprise Grid customers manage their encryption keys, a feature available in Cisco Webex Teams but not in Microsoft Teams.
Since May, the number of Fortune 100 companies using Slack appears to have remained constant at 65. However, Slack said those businesses had added hundreds of thousands of users over the past year. Some of the vendor's biggest customers are 21st Century Fox, Target, T-Mobile and Starbucks.