Getty Images
Slack launches redesign to centralize notifications, tasks
The collaboration vendor is out with a new interface to centralize workspaces for Enterprise Grid customers and display notifications and unify create functions in one view.
Slack has a new look. The collaboration platform vendor on Wednesday launched a redesign to group similar functionalities into the same viewing panel with the aim of making navigation more intuitive for the user.
The redesign was released on Wednesday to a subset of teams that are just joining Slack and will be rolled out to customers on the free plan and then the enterprise plan in the coming months, according to Slack. There is no additional cost for the interface update.
The redesign includes a centralized panel for customers on the Enterprise Grid plan, which offers multiple workspaces, to view all their workspace notifications in one place. It also offers a centralized panel for direct user notifications, such as mentions, and a single place to create new items in Slack such as messages, canvases, huddles and channels.
Slack versus Teams
Slack's updated design keeps it viable against competitor Microsoft Teams, which has a clunkier interface, Metrigy analyst Irwin Lazar said.
"Compared to Teams, I still think that Slack has a superior user interface," he said. "Teams still requires me to move between workspaces to see the latest activity."
Slack, which is owned by CRM and CX giant Salesforce, designed one new viewing panel specifically for Slack Enterprise Grid customers to manage their various workspaces. These customers have multiple workspaces within Slack to organize different departments within their companies. For example, there may be separate workspaces for sales, marketing and business development.
Before the redesign, users would need to click between the separate workspaces to see all the latest notifications. But with the new interface, users can see all the updates in one place.
Another new interface update is the activity panel, which gives users one notification center to view all direct contact points such as user mentions, thread replies and reactions from team members.
"Bringing DMs and activity icons into the left-side sidebar makes it easier to stay abreast of discussions directly with me or where I'm mentioned in channels that I am part of," Lazar said.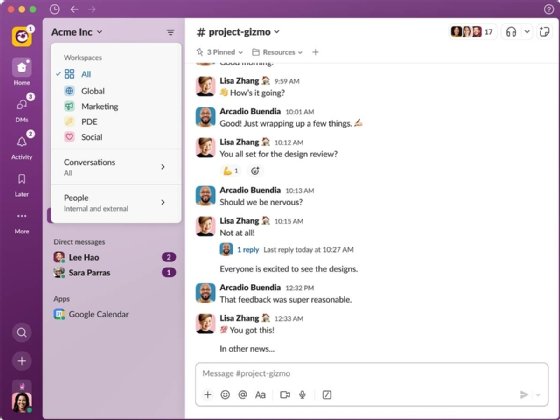 Evolution of the platform
Likewise, Futurum Group analyst Daniel Newman said the new activity zone adds value for customers.
"Slack was due to deliver new capabilities and features which, in this case, show great promise -- especially the new activity view," he said.
Many Slack users have wanted some type of message notification viewing center for a while, Slack product management director Brad Monroe said.
Compared to Teams, I still think that Slack has a superior user interface.

Irwin LazarAnalyst, Metrigy
The last user interface update Slack had was in 2020, and at that point, much of the platform did not exist yet, he added.
"We noticed there was an opportunity to reorganize for our current tool set that we now have and also to prepare for the future," Monroe said. "We're constantly iterating and taking customer feedback into account."
Another new feature, the create panel, is also an example of how Slack's redesign incorporates intuitive consolidation.
It places separate entry points to create new messages, canvases, huddles or channels into one central window rather than forcing users to click in separate areas to find different create functions.
Overall, the interface updates make working in Slack easier for users, Lazar said.
"As a Slack user, I look forward to the changes," he said.
Mary Reines is a news writer covering customer experience and unified communications for TechTarget Editorial. Before TechTarget, Reines was arts editor at the Marblehead Reporter.