carloscastilla - Fotolia
AV integrators resolute amid changing market trends
The AV market is undergoing a transformation due to COVID-19 and growing UC adoption. AV integrators still have an important role to play in a changing workplace.
The audiovisual industry is evolving as organizations migrate from dedicated AV systems to unified communications platforms that include video applications. Meeting spaces, too, have branched out from conference rooms to include an individual's personal workspace. And the COVID-19 pandemic has only accelerated this evolution as organizations fast-tracked their UC deployments to support business continuity and remote employees.
In the last few years, the market has also seen a migration to cloud computing, which has changed how organizations and integrators think about UC and overall technology workflows, said Julian Phillips, senior vice president of global workplace solutions at AV integrator AVI-SPL.
"COVID didn't create this situation; this is something already going on for quite some time," he said.
Phillips spoke on a virtual panel of AV leaders at InfoComm 2020 Connected, an AV industry trade show. The panel discussed the role of AV integrators in a changing video landscape, including the rising adoption of UC technology and how COVID-19 forced organizations to rethink their conference room strategies.
While the technology and circumstances around the AV industry are changing, the role of AV integrators, who supervise and manage the installation of AV systems, is largely the same.
"We look after how we get content to share it to people. We ensure people's voices are heard. We ensure people's faces are there, that visual identities can be shared -- and we do that in real time," Phillips said. "That's the skill set we've had, and that's the skill set that's just as relevant in the cloud, fully integrated UCC [UC and collaboration] world."
Modern AV challenges
Office and workspace provider WeWork faced a unique challenge in meeting the AV needs of its customers, said Nick Nienaber, head of AV at WeWork. While WeWork could design spaces and systems to support its dedicated enterprise customers that have standardized on Cisco Webex or Zoom, supporting coworking spaces is much more challenging. The company has yet to formally offer video conferencing services to coworking customers.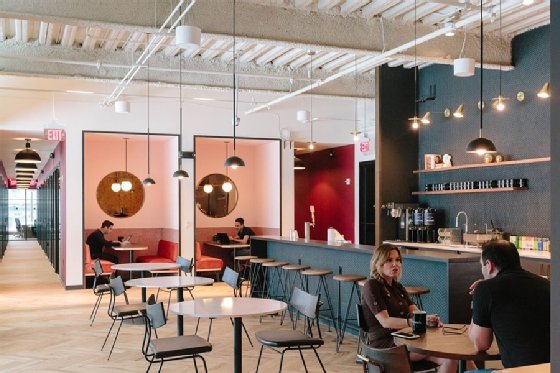 Coworking spaces are shared by WeWork customers that work for different organizations. As a result, the same room could be used by Zoom, Webex or Google Meet users, as well as customers who want to use Slack or Discord for calling, Nienaber said.
"Everything we love about video conferencing as a platform falls apart in a bring-your-own-device or do-it-yourself atmosphere," he said.
If the change you're looking to make did not make sense as far as how people are going to collaborate and be effective pre-COVID, then you probably shouldn't make that investment anyway.

Julian PhillipsSVP of global workplace solutions, AVI-SPL
Nienaber said he's working with his team of engineers to address these challenges by figuring out how to adapt systems already installed to provide more pathways to remote collaboration. His team also works with AV consultants and partners for guidance on market trends and what people will need in the next couple of years.
Supporting more remote workers
But organizations and AV integrators should not alter workspaces dramatically in response to the pandemic. A complete overhaul of conference rooms and workspaces would be an overreaction as the world continues to learn new things about the virus, Nienaber said.
Instead, focus on the trends that drove design and integration before the pandemic, such as opening conference systems to support more remote workers, he said.
"If the change you're looking to make did not make sense as far as how people are going to collaborate and be effective pre-COVID, then you probably shouldn't make that investment anyway," Phillips said.
The opportunity now is to meet short-term safety measures but also build systems and processes that improve how people communicate and collaborate and design workspaces to benefit all types of workers, he said.
Redesigning the workplace
Even when employees return to the office full time, office and workspace design will be dramatically different because of the pandemic. As organizations evaluate redesigning workspaces, AV integrators will have an important role to play.
"Technology has to be a fundamental part of design," Phillips said. Historically, workspaces were designed in silos with AV infrastructure and design happening at the end of the process. But AV integrators need to be more proactive and involved in the design process early to ensure workspaces are built around an optimal experience, he said.
AV integrators need to be "forceful" when working with interior designers to make sure they understand that room design needs to incorporate technology, Nienaber said.
"If [a designer] tells me I can't put a microphone there, the person who sits there will not be heard," he said. "You have to present your expertise as nonnegotiable."
Dig Deeper on Video conferencing and visual collaboration