Microsoft updates Teams for faster online collaboration
The tech giant's popular collaboration platform gets new features including enabled multi-tenant accounts, QR code sign-in for hot desking and interoperability with Cisco devices.
Microsoft on Tuesday previewed new features for its collaboration platform, Teams, including speedier app opening time, a new interface design, multi-tenant account notifications, QR code sign-in for hot desking and interoperability with Cisco Webex devices.
The tech giant unveiled the features at the Enterprise Connect communications and collaboration conference in Orlando, Fla.
Microsoft Teams Senior Director Derek Snyder revealed the new Microsoft Teams, available in public preview since March 27. He opened the app to show its faster load time and a remodeled, colorless aesthetic.
"We've had our designers turn down the purple a few notches, and we have a much cleaner interface," Snyder said.
A need for speed
But compared with competitors Zoom, which takes about two seconds to open, and Cisco's Webex, which takes about three seconds, the new Teams' 17-second opening time -- down from 34 seconds -- is still too long, said ZK Research analyst Zeus Kerravala.
Seventeen seconds to bring up [Microsoft] Teams is an eternity.

Zeus KerravalaAnalyst, ZK Research
A Microsoft presentation slide confirmed that the vendor trumpeted the Teams platform's halved loading time.
"Seventeen seconds to bring up [Microsoft] Teams is an eternity," Kerravala said.
The video quality on competing platforms by Zoom, RingCentral and Cisco Webex is also better than Microsoft Teams, he added.
"I do think the [Microsoft] Teams core platform itself still has some issues," Kerravala said.
Simpler account switching
Another capability within the new Teams is called multi-account and multi-organization support. It lets a user receive notifications from various tenants at the same time -- separate company Teams accounts within a user's purview -- even while on a video conference call.
"Sometimes you're doing this because you're a consultant, and you have multiple email addresses and multiple organizations," Snyder said. "Sometimes you're in a company that's done acquisitions, and you have all of these tenants all under one roof."
In this way, users can stay synced up with numerous responsibilities at the same time using the Teams app.
"I don't really understand the need for it," Kerravala said.
On competing platforms Cisco Webex and Zoom, users can communicate with different people in different organizations from a single account, without needing to log out and log in again to separate accounts, he said.
"Now, you can actually just toggle between them, which makes it easier to manage around the problem," Kerravala said. "But the problem is still, 'Why do I need to do that? Why can't they just have one user ID?'"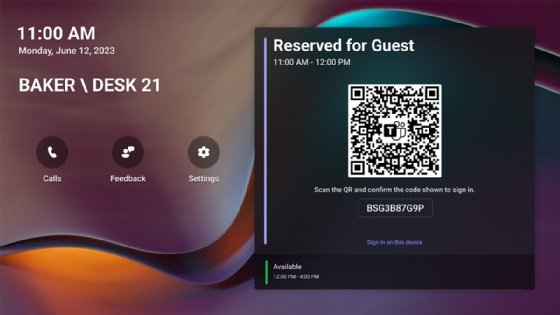 Scan for personal use
Another new feature on Microsoft Teams was created for hot desking -- when employees use shared devices in an office space. The new feature enables QR code sign-in for employees to sync their Microsoft Teams accounts with company devices.
"That is a good feature because it removes points of friction," Kerravala said. "That was a catch-up feature for Microsoft."
Microsoft also partnered with Cisco to integrate Teams Rooms with Cisco devices, including Webex Board Pro and Webex Desk Pro, which are large-scale monitors. The devices have been certified to integrate with Teams Rooms.
"I am glad they are actually interoperating with Cisco now," Kerravala said. "That is something I know Cisco has been wanting to do for a long time."
The Enterprise Connect conference runs through Thursday.
Mary Reines is a news writer covering customer experience and unified communications for TechTarget Editorial. Before TechTarget, Reines was arts editor at the Marblehead Reporter.
Dig Deeper on Communications platforms and integrations