Rawpixel - Fotolia
Private Slack shared channels look to boost security, admin controls
With the addition of private shared channels, Slack looks to broaden its external collaboration tools. However, interoperability issues still nag team collaboration apps.
Slack is expanding support for external collaboration with a beta release of private shared channels, which should allow separate organizations to communicate more securely across Slack workspaces. Slack announced a beta of public shared channels in September, and earlier this month introduced private Slack shared channels for conversations that could include sensitive or classified information.
The shared channels feature will become more important as large enterprises look to improve the adoption of social tools, Constellation Research analyst Alan Lepofsky wrote in a blog post. Lepofsky said private shared channels will be a more common use case than public shared channels because most cross-organizational communications are better suited to a limited audience.
To access private Slack shared channels, users need to be invited to view or join the channel, and any content shared in the channel won't appear in search results to non-members.
Nemertes Research analyst Irwin Lazar said his firm's upcoming unified communications and collaboration study found that nearly 20% of organizations plan to use or are already using team collaboration apps for external communication with partners, suppliers and customers -- an increase from last year's study.
"There are still issues to overcome, like whether or not the external participant needs to archive the conversations," Lazar said.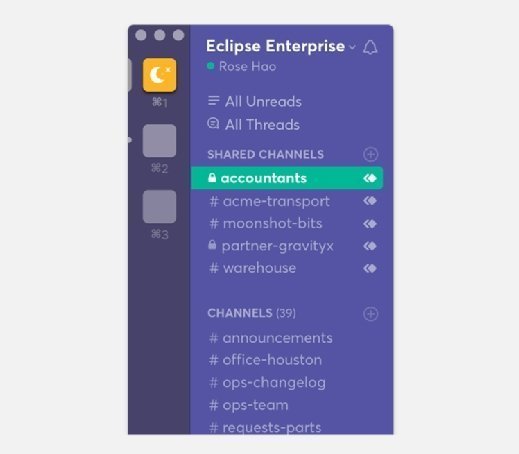 Management options for secure Slack shared channels
Private Slack shared channels offer IT management options to protect information. Admins can choose whether a specific shared channel is private or public in their respective workspace. Channels can also be designated private or public on both ends or private on one end and public on the other.
Admins can view the external workspaces their organization is connected to, create new shared channels, view pending shared channel invites and stop sharing any or all shared channels. However, admins cannot view names or content of any private shared channel of which they are not a member.
The private shared channel beta is currently available to teams on the standard and plus plans. Support for Enterprise Grid is expected soon, Slack said.
External collaboration still in a silo
While the beta boosts external collaboration for Slack users, it doesn't address the need for interoperability among team collaboration apps.
"Until social networking supports cross-product communication, communication with people that use different products will remain a challenge," Lepofsky said.
Lazar said IT leaders have expressed concern over app overload. Because of the lack of interoperability, users often juggle multiple team collaboration apps to meet their external collaboration needs.
"This is common in the consumer space, where people routinely use multiple text and social apps for communication, but it creates governance and compliance headaches within enterprises," Lazar said.