bas121 - Fotolia
Slack acquires directory startup Rimeto to create social network
Slack acquired business directory software maker Rimeto in a bid to promote more social connections on its platform.
The acquisition of business directory startup Rimeto could help Slack turn its platform into a social network to connect with colleagues and strangers.
Slack bought the startup this week for an undisclosed sum and plans to keep operating the company as is for now. In the future, Slack will add Rimeto's directory software to its collaboration app.
A robust Slack directory should make it easier for users to find and message external parties on Slack. The vendor has made enabling cross-company communication a priority, staking out a clear advantage over rival Microsoft.
The directory feature should also promote intracompany socialization. Users may find the software especially useful for connecting with colleagues while working remotely.
The Rimeto purchase gives Slack customers an alternative to Microsoft's Active Directory. It's one of the first examples of Slack building a software ecosystem. For many features, Slack relies on third-party integrations rather than technology it owns.
Rimeto's software could help Slack become a social platform like Microsoft Yammer or Igloo, said Irwin Lazar, analyst at Nemertes Research. Those apps have Facebook-like interfaces that promote social connections within a company.
"It begins to bring social engagement into Slack, allowing users to learn more about each other, and to find subject matter experts," Lazar said about the Rimeto acquisition.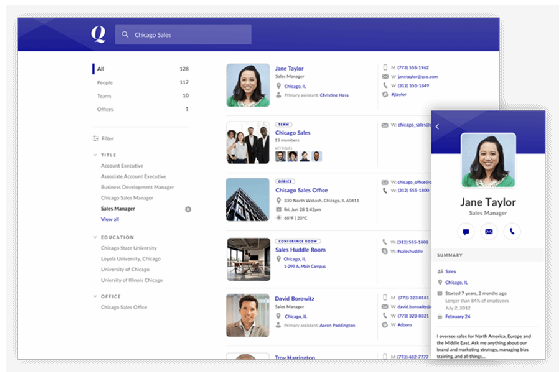 Three former Facebook engineers (including Ted Zagat, whose parents created the Zagat restaurant survey) founded Rimeto in 2016. The company raised $10 million from investors last year in its first significant funding round.
Profiles in Rimeto include more information than is typically found in a business directory. If a user has filled in all the fields, the description provides a level of detail akin to someone's LinkedIn and Facebook accounts combined.
The profiles can include work and education history; interests, hobbies and expertise; departments, and team and group memberships; and even personal photos. Rimeto also lets users search for offices, project groups and teams.
"A core feature of Slack is information discoverability; with Rimeto that expands to people discovery," said Dave Michels, principal analyst at TalkingPointz. "Corporate directories are critical yet have been trapped in an innovation-free zone."
Last month, Slack gave customers the ability to collaborate with up to 20 external parties at once in a shared Slack channel. What's more, the company said it planned to eventually let Slack users message any other Slack user in the world.
The Rimeto directory could be essential to those external collaboration goals by creating a searchable database of Slack users. Just as you can look up and connect with people on LinkedIn today -- the same could be possible through Slack in the future. However, Slack has only hinted at its plans for the software at this point.