Rawpixel - Fotolia
Slack introduces cross-company direct messaging
Slack plans to launch the new messaging feature next year. New capabilities set for this year include audio and video messaging and verification of participants in shared channels.
Slack plans to release a feature early next year that lets employees of different companies message each other directly on the collaboration platform. The direct messaging capability is the latest step toward the company's goal of replacing email.
When it launches cross-company messaging, Slack will add a verification feature in shared channels to ensure that participants are from trusted businesses. Introduced this week at the Slack Frontiers conference, the latest capabilities expand the recently launched Slack Connect feature set.
Slack touts Connect as an eventual email replacement that's free of spam and phishing scams. However, the direct-messaging feature is separate from any shared channel within the service. Employees from different companies can message each other anytime, as long as they are each from a Slack-verified organization, or each company has allowed employees to communicate.
"If you're a preverified organization, you can just connect and start working with that organization," said Steve Wood, vice president of product in Slack's Developer Platform.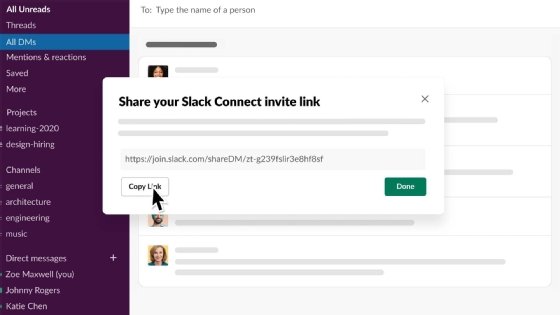 Slack won't be the first collaboration app to have direct messaging -- Zoom and Cisco Webex already have that capability. But Slack's service stands out because of its ease of use and workflow integrations, Nemertes Research analyst Irwin Lazar said.
Also set for next year, Slack will add a verification feature that identifies trusted companies with a checkmark, much like Twitter verifies users with a blue checkmark. The capability is a "huge" enhancement for Slack, Lazar said.
Overall, the latest features will help Slack eventually reach its goal of replacing email, at least for some of its customers, Lazar said. "The last reason why you have to switch from Slack to email may go away for a lot of folks," he said.

Slack also previewed at Frontiers video messaging for non-real-time communications and real-time audio channels. Both will be available later this year.
Slack will store the video messages so that people can review them anytime. Wood, who recently joined Slack, said that he finds the feature useful to communicate with members of his team who are unable to attend a meeting.
Slack's audio channel attempts to imitate impromptu office conversations. Users can hop on or off an exchange, as if through a walkie-talkie. According to Wood, the idea is that a channel for live chats is less formal than a call.
"You can just join it and talk to people in a more ad hoc way," Wood said. "It's not so much watercooler stuff; it's more like the conversations that happen opportunistically."
Finally, Slack announced integrating Workflow Builder with PagerDuty, an incident response app, and Zapier, an app that moves information between Slack and other apps. Launched a year ago, Workflow Builder lets people customize Slack with a series of templates instead of code. Slack leads rivals in third-party integrations with more than 1,500 apps available in its directory.