Fotolia
Slack expands shared channels, but limits remain
Slack now lets as many as 20 organizations communicate in a shared channel. But users will have to wait for other enhancements to the external collaboration feature.
Slack took a significant step this week toward improving external collaboration with the expansion of shared channels. However, users will have to wait for numerous other enhancements for better communications outside of an organization.
Slack now lets up to 20 organizations collaborate in a shared channel. The previous two-organization limit had vexed Slack users who wanted to use the chatrooms to communicate with multiple external parties at once.
"Twenty organizations in one channel is perfect for us," said Martin Krenn, CEO of KeeperSport. The European athletic apparel company uses shared channels to communicate with its business partners.
Slack this week also named its external collaboration initiative "Slack Connect" and detailed plans to improve the feature set over time. However, the company did not say how long users would have to wait for most of those upgrades.
One significant limitation on external collaboration in Slack today is the inability of users to message others on Slack freely -- a core strength of email. IT admins or specially designated users from all organizations involved must approve the creation of a shared channel.
In the future, Slack plans to let customers create preapproved lists of businesses so that users can establish shared channels without delay. Slack also plans to verify customers -- similar to Twitter's blue checkmark -- to protect users from phishing and other scams.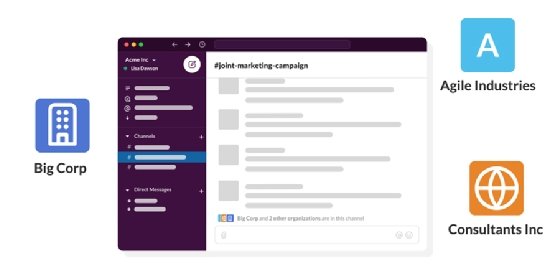 Slack users also can't initiate direct messages with other Slack users if they aren't already in a shared channel together. On that front, Microsoft Teams has Slack beat: Teams users can message with anyone on Teams, Skype for Business and consumer Skype. However, Teams does not support group chats with external parties.
Slack plans to eventually expand one-on-one messaging so that users can start a conversation with anybody else on Slack. Users will be able to send a message to a non-user's email address, but that would require a person to go through the cumbersome process of installing Slack to respond.
Another drawback is that businesses must have a paid Slack account to use shared channels. Free users invited to a shared channel get a 90-day trial of the premium service, but after that, Slack will boot them from it.
App integrations are also limited in shared channels. Only the organization that installs an app can interact with it, although everyone in the channel can see it. Slack said full app access was on its roadmap.
Slack users will have to wait for better privacy controls for shared channels, too. Right now, businesses can't control whether an organization they are collaborating with makes the shared channel public or private. Slack wants to extend that level of control to customers eventually.
Sometime this summer, customers will be able to use Slack's enterprise key management service to better safeguard data shared in external channels. Businesses will be able to use the critical function to revoke access to information shared in the channels.
Slack launched shared channels in beta in 2017 and made it available to all paid users last year. Slack said 41,000 customers were using the feature already.