Natalia Merzlyakova - Fotolia
Slack-Office 365 integrations link email, calendar, documents
The latest Slack-Office 365 integrations include calendar syncing and an add-on for exporting email messages from Outlook to Slack.
Slack users can now link their accounts with Microsoft Outlook to indicate when they are in a meeting or otherwise unavailable. The integration syncs Slack statuses -- the colored dot and associated message that appear next to a user's name -- with Outlook calendars.
Slack also released an Outlook bot that automatically brings meeting requests and reminders into Slack. Users can respond to those invitations in Slack, and, with one click, they can join meetings scheduled in Skype for Business, Zoom and Cisco Webex.
The calendar tools are among several new integrations between Slack and Microsoft Office 365. Coders acquired through Slack's purchase of the startup Astro led to the development of the features, launched on Tuesday.
The Slack-Office 365 integrations should help Slack undercut Microsoft's attempts to market rival product Microsoft Teams as more useful to businesses because of links to Office 365, the market-leading cloud-based business productivity suite. Slack built the integrations using Microsoft's public developer tools.
"The biggest benefit to [Slack] users is better ability to work in a Microsoft Office environment," said Irwin Lazar, analyst at Nemertes Research, based in Mokena, Ill. "It's obviously a tough market when Microsoft is effectively giving something away as part of Office 365."
Microsoft makes Teams available at no extra cost to enterprises that subscribe to cloud-based Office 365, which a half million organizations are either piloting or using, according to Microsoft. Slack has attracted more than 10 million daily active users over the past five years and is ramping up for an initial public offering later this year.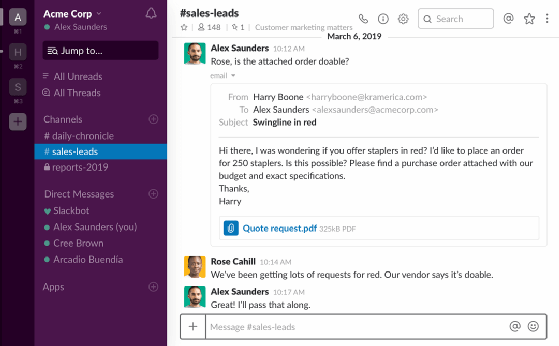 Slack-Office 365 integration for email, documents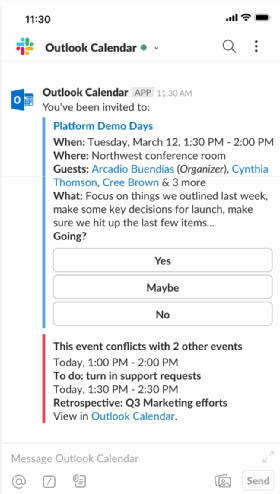 Users of Outlook can now install an add-on that will let them quickly export an email into a Slack channel or direct message.
Instead of forwarding an email and copying a dozen colleagues, for example, a user could send that email to the same group of people in a Slack channel, avoiding a reply-all email chain.
Slack is the only major team collaboration app that supports such an add-on, a version of which is already available for Gmail. The Microsoft add-on works with cloud-based -- but not premises-based -- versions of Outlook.
Also, Slack now supports full previews of Microsoft Word, Excel and PowerPoint files, letting users view an entire document without opening the corresponding application. The ability to preview files should be particularly useful on mobile phones.
Slack is planning to eventually support in-app file previews for other document processing and storage software, including G Suite and Box. Slack is also expected to add support for syncing Slack statuses with Google Calendar. It already offers a Google Calendar bot.
Dig Deeper on Communications platforms and integrations