Rawpixel - Fotolia
Cisco unifies Webex calling, messaging and meetings
Cisco is embedding BroadSoft-powered Webex calling into Webex Teams and will let businesses connect on-premises PBXs to the app.
SAN DIEGO -- Users can now make phone calls through Cisco Webex Teams without launching a separate client. What's more, businesses can power that calling using existing on-premises telephony systems -- a setup that could provide a stepping-stone to the cloud.
Cisco has united the technology behind Webex calling, messaging and meetings to create a more seamless experience for users, such as the ability to message and make voice calls within the same app and to escalate phone calls to video calls.
"The interoperability is really cool. You go from an instant message to a phone call to a bridge to a meeting," said Michael Hawn, senior IT project manager at EchoStar Corp., a midsize telecommunications firm based in Englewood, Colo. "That really matters, and Cisco is doing a better job of that."
When first launched in November, Webex calling required cross-launching a separate app from within Webex Teams. The vendor is now embedding those call controls directly into Webex Teams. Cisco inherited the technology behind the calling service through its 2018 acquisition of BroadSoft.
Cisco is also bringing together its back-end messaging and meetings platforms to enhance pre- and post-meeting communications. Despite the common names of Webex Teams and Webex Meetings, Cisco initially launched the former as a separate platform under the name Cisco Spark.
"Having meetings, teams and calling all in one platform -- it's the actual vision of unified communications," said Zeus Kerravala, analyst at ZK Research, based in Westminster, Mass. "That's something that's long overdue."
Perhaps more significant, Cisco now lets businesses connect its flagship on-premises telephony product, Cisco Unified Communications Manager (CUCM), to Webex Teams. Companies that make the connection would be able to take advantage of cloud-based messaging and meetings, while safeguarding investments in their calling infrastructure.
It will also allow for hybrid setups whereby businesses could use on-premises calling systems in their headquarters and cloud-based Webex calling in branch and satellite offices, while all employees could use the same messaging and meetings client.
Webex Teams will also connect to Cisco Hosted Collaboration Solution (HCS), a private cloud deployment of CUCM hosted by service providers. Combining the two could help Cisco get larger businesses, which often prefer private clouds, to begin using Webex Teams.
"I think it's a better hybrid story and it plays into Cisco's strategy of helping customers migrate to the cloud," said Rob Arnold, analyst at Frost & Sullivan. "It's really about helping to smooth that transition and let customers do it when they are ready."
Cisco detailed the changes at its annual Cisco Live user conference this week in San Diego.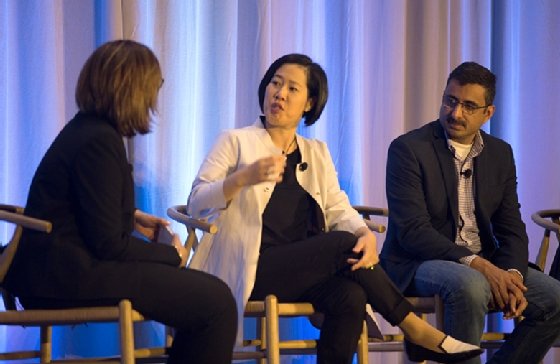 Cisco brings Webex to BroadSoft UC-One
As part of its initiative to streamline its unified communications apps, Cisco is bringing Webex-powered meetings and messaging next month to BroadSoft UC-One, a client targeted at small businesses of 50 employers or fewer.
Cisco has worked to make the user interface of UC-One nearly identical to the interface of Webex. The vendor has pursued a similar strategy with its flagship on-premises UC client, Cisco Jabber.
To get the version of UC-One that includes Webex collaboration, service providers must deliver the app from the Cisco cloud -- a business model called "UC-One SaaS" that Cisco launched in the fall.
The latest update means service providers that sell UC-One can now brand Webex services as their own. The service providers sell UC-One in connection with BroadSoft cloud calling plans.