Cisco Webex Teams to replace Spark platform
Cisco plans to combine Spark and Webex to provide a single platform for team collaboration and web conferencing. Cisco Webex Teams and Webex Meetings will rely on the same cloud infrastructure and user interface for online meetings.
Cisco plans to overhaul its cloud collaboration portfolio by merging the team collaboration app Cisco Spark with the web conferencing platform WebEx, rebranding the former as Webex Teams and the latter as Webex Meetings. The products will rely on the same cloud infrastructure and user interface for online meetings.
Cisco is aiming to capture a larger share of the growing market for teams-based cloud collaboration apps by taking advantage of the well-known Webex brand, already used by 130 million people worldwide. The vendor will encourage existing Webex customers to install Cisco Webex Teams for free when it launches this summer.
Beyond rebranding, Cisco has combined the previously separate cloud infrastructures of Spark and Webex and user interfaces for both platforms. The move comes as Cisco's main competitor, Microsoft, is in the process of consolidating its collaboration portfolio by rolling the features of Skype for Business into Microsoft Teams.
"Overall the bringing together of the product portfolio makes a lot of sense for customers as well as prospects," said Alan Lepofsky, a principal analyst with Constellation Research Inc., based in Cupertino, Calif. "It simplifies the message, and makes it easier for users to understand how to get work done."
Cisco also announced this week at the 2018 Cisco Collaboration Summit in Phoenix, Ariz., that the Webex Assistant -- formerly the Cisco Spark Assistant -- will be made available starting in May. The voice assistant helps users control meetings and place calls using Cisco meeting room devices.
Spark becomes Cisco Webex Teams
Cisco Webex Teams will offer the same core capabilities of Cisco Spark -- including presence, calling, file sharing, persistent messaging, and web conferencing -- in a redesigned user interface. The product is similar to workstream collaboration apps like Slack, Microsoft Teams, RingCentral Glip, and Atlassian Stride.
Cisco Webex Teams will conduct meetings through the Webex client, rather than a separate Spark meetings client as is done today, and will prominently feature a calendar of upcoming meetings in the top left of the screen.
"The merger of the two platforms makes total sense," said Rob Arnold, an analyst at Frost & Sullivan. "These applications are increasingly overlapping in functionality, while IT and users want fewer, yet more robust tools with simplified experiences and licensing."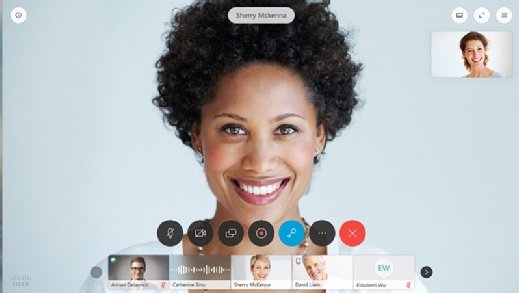 Cisco Webex Teams users from different companies will be able to collaborate with one another without creating guest accounts. The streamlined process should simplify the process and give businesses better oversight over the information shared with external partners.
Existing Cisco Spark customers will be prompted to switch to Webex Teams in June. The vendor will continue to offer a freemium version of the Spark platform.
Webex Meetings focuses on video
Also in June, Cisco will launch new desktop, mobile and web applications for Webex video conferencing. The new platform will be baked into Webex Teams but also offered as a standalone product branded as Webex Meetings.
Cisco has made video the centerpiece of the new interface, with the capacity to display 25 video feeds at once on computers, and four video feeds at once on mobile phones. The app will also feature a sidebar with contact and title information for every user in the meeting.
Cisco highlighted an integration with Microsoft Teams that will let customers launch a Webex meeting from that platform with one click. The vendor said it was working on additional combinations with competitors including Microsoft, Google and Slack.
Webex Meetings will sit atop the combined cloud infrastructure of Spark and Webex, hosted in Cisco data centers as well as the public cloud. Using Cisco's "video mesh" system, customers can also choose to install on-premises servers to improve video quality in individual offices, with off-site and overflow users automatically funneled to the cloud.
Webex Share will enhance low-tech meeting rooms
In late 2018, Cisco will begin selling small wireless devices for connecting televisions in meeting rooms to the Webex cloud.
Webex Share will let Cisco customers conduct Webex meetings on televisions and other displays with HDMI ports. The palm-sized devices, which connect wirelessly to nearby computers, will turn those televisions into a resource people can reserve through Webex, with the screen displaying each day's meeting schedule.
The new product will be useful in small meeting rooms with existing monitors, and could serve as a stepping stone to convince more customers to eventually invest in one of Cisco's more expensive touchscreen meeting room devices, said Irwin Lazar, an analyst at Nemertes Research, based in Mokena, Ill.
"There are similar products like Polycom Pano and Display Note Montage, but they are more just for wireless display," Lazar said. "The back-end integration [of Webex Share] into Webex will offer significant advantages for Cisco customers."
Dig Deeper on Team collaboration software