Cisco enhances Webex Assistant with AI meeting, call controls
Cisco added new capabilities to the Webex Assistant that should make it easier to place calls and join meetings. The vendor plans to roll out additional AI features later this year.
ORLANDO, Fla. -- Cisco has added new features to its AI voice assistant for Webex that will make it easier for users to start meetings and place calls. The vendor also revealed plans this week at the Enterprise Connect conference to update Webex Meetings with facial recognition and other AI features in the coming months.
Webex Assistant can now automatically detect when a user enters a conference room based on the presence of their mobile phone. Detection of the user's phone will prompt the assistant to ask whether the user would like to start the scheduled meeting.
Cisco also this week enhanced Webex Assistant with a feature called "First Match" for placing calls. When a user verbally commands the system to, for example, "Call Kevin," the system will choose the colleague the user wants to contact based on whom the user interacts with most frequently.
Webex Assistant uses AI and machine learning to simplify the user experience, said Keith Griffin, CTO of the team collaboration group at Cisco. Instead of responding only to a specific set of commands, the assistant understands a range of conversational phrases, he said.
Webex Assistant supports a limited set of controls, such as the ability to start, record and end meetings, to share a screen, and to place a phone call. The assistant is available on cloud-connected Webex room series devices, including smartboards and room kits.
"We'll have a pretty modest start for this," Griffin said. "But our whole goal is to create a conversational assistant."
In the future, Cisco is working on adding a feature to let users command the Webex Assistant to automatically schedule a follow-up meeting based on the calendar availability of each participant, Griffin said.
Because Cisco makes both the video devices and the cloud meeting service, the vendor has an advantage over more limited web conferencing competitors, such as cloud-only Microsoft and Zoom, and hardware maker Polycom, said Irwin Lazar, analyst at Nemertes Research, based in Mokena, Ill.
"At this point, I think Cisco is the only one who has AI-controlled rooms," Lazar said.
The new AI features address a common problem in many organizations. In a Nemertes Research study of 500 companies last year, around half of respondents reported that it took more than five minutes to launch an online meeting.
"I think from an IT perspective, these kinds of features are not things they are going to pay for, but they are features they will be using if they are part of the default feature set," Lazar said.
Cisco uses Accompany for People Insights
Next month, Cisco will launch People Insights, a feature within Webex that will automatically create profiles on meeting attendees based on corporate directory information and scans of the internet.
The feature relies on the technology of Accompany, which Cisco acquired for $270 million in May 2018. Amy Chang, that company's founder, now oversees Cisco's collaboration division.
Cisco said it had already created profiles on 250 million people and 20 million companies. The system uses a participant's email address to search the internet for information such as recent news articles and employment details.
People Insights will launch in the United States in April. Cisco plans to deliver the feature to additional geographies later in the second quarter of 2019.
Microsoft, which owns LinkedIn, has promised to deliver a similar insights feature for Microsoft Teams and other Office 365 apps through Microsoft Graph, a back-end tool developers use to apply machine learning to organizational interactions and content use.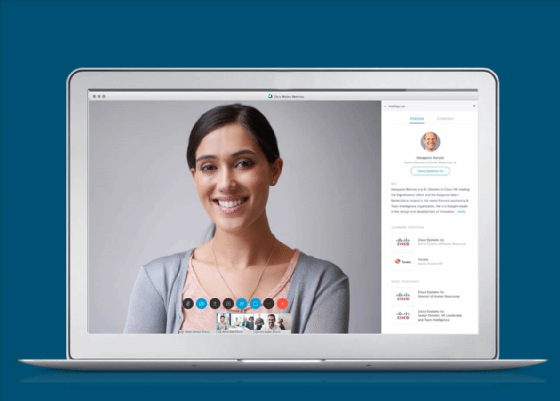 Cisco previews facial recognition for Webex
Cisco plans to add to Webex in June facial recognition software that will be able to identify users and display a name tag for each participant in a meeting.
Webex users will have to opt into the service by uploading a picture of themselves. Cisco said it would not transmit those images to the cloud, but would instead analyze each user's facial features to develop an identifying code for each user.
Beyond identifying each user by name, the facial recognition software should be able to provide useful analytics to IT departments. For example, the system could track no more than five people in a meeting room designed for 10 people.
Dig Deeper on Video conferencing and visual collaboration