Polycom Trio integrates with Alexa for Business
Poly, the new name for the merger of Plantronics and Polycom, has added Alexa for Business to voice-activate meetings on the Polycom Trio conference room phone.
ORLANDO, Fla. -- Poly, the new brand name of Plantronics and Polycom, unveiled significant partnerships this week with Microsoft and Amazon, including a first-of-its-kind integration with the AI voice assistant Alexa for Business.
At the Enterprise Connect conference, Poly announced it had worked with Amazon Web Services to add Alexa for Business to the Polycom Trio conference room phone.
The integration, which launches through a software update next month, will remove a significant barrier to adopting Alexa for Business, which lets users perform basic tasks, such as starting and scheduling meetings, through voice commands.
Alexa for Business customers previously needed to deploy Amazon Echo devices to use the service. With the new integration, businesses with cloud-connected Polycom Trio phones will be able to use those devices to access the voice controls of Alexa for Business.
The feature drew immediate interest from users. PPG Industries, a Fortune 500 company based in Pittsburgh, began adding Polycom Trio devices to its conference rooms last year. Shayne Bell, a network analyst for the company, expressed interest in the Alexa integration for its potential to make it easier for users to join meetings.
"Everyone has Alexa at home now, so they should know how to use it," Bell said. "I love that it's right on the Trio, though, so you don't even know it's there."
Amazon Web Services announced in November that it would open Alexa for Business to third-party devices. In addition to Poly, Amazon listed iHome, BlackBerry, Linkplay and Extron as early partners.
Poly's announcement fell on the same day Cisco announced it had enhanced the capabilities of its AI virtual assistant for Cisco video hardware, Webex Assistant, which now automatically asks users whether they would like to start a scheduled meeting when they walk into the room with a paired mobile phone.
Poly to release a line of phones for Microsoft Teams
Poly unveiled two models of its new CCX series phones for Microsoft Teams: a basic desk phone with a color display and an executive model with a larger screen designed for video conferencing. Poly eventually plans to make the CCX line available as open Session Initiation Protocol devices.
Poly follows the lead of Crestron, Yealink and AudioCodes in releasing phones certified to run with Microsoft Teams, the cloud-based successor to Skype for Business. Poly will release its devices in the third quarter of 2019.
Poly also released the Elara 60, a docking station for mobile phones. The device, which Poly has targeted at mobile-first workers, comes with a headset, speakerphone, a dial pad and a Microsoft Teams button that launches the Teams mobile app.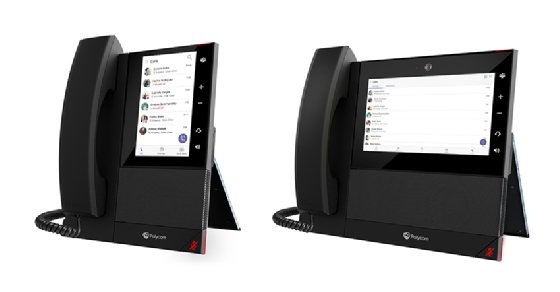 Despite Microsoft's aggressive push of Teams, the 2-year-old product lacked essential hardware and interoperability partnerships until recently. Microsoft said this week that 500,000 organizations had begun piloting or using Teams.
The previous lack of Teams-native desk phones was likely a roadblock for some companies looking to migrate from Skype for Business to Teams. Business can connect Skype-certified phones to Teams through a gateway, but with limited features.
At the same time, an increasing number of users now prefer softphone clients to physical phones.
Multicómputos, an IT company based in the Dominican Republic, is beginning to think about moving from Skype for Business Online to Teams. The previous lack of Teams phones wasn't a significant issue, said Michael Albert, a strategy manager for the company.
"I think it still plays a part, having the desk phone itself. But, more and more, over time, I believe we're going to see more usage of softphones and cellphones as the main communications client," Albert said.
In addition to the new phones, Poly announced that its service for connecting third-party video endpoints to Microsoft Teams now synced with hardware registered on premises. The service, RealConnect, works with devices from Poly, as well as vendors such as Cisco and Logitech. Pexip and BlueJeans provide similar interoperability services for Microsoft.
Plantronics, Polycom take a risk in launching Poly
Plantronics and Polycom rebranded the combined company as Poly this week, opting to abandon the strong name recognition of each brand.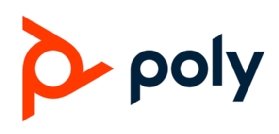 Plantronics, a maker of consumer and enterprise headsets, purchased the well-established voice and video hardware vendor Polycom for $2 billion last year.
Over the past several months, the two companies have continued using both names. Polycom is a better-known brand in the enterprise market, yet the company began making product announcements under the Plantronics brand. That caused confusion, which fueled speculation that one name would win out.
Instead, Plantronics and Polycom opted to retire both brands and debut Poly. The company also unveiled a new logo, which pays homage to Plantronics' history in aviation and Polycom's flagship Trio conference phones.
"It's a bold move. Polycom and Plantronics [were] both very strong brands," said Zeus Kerravala, principal analyst at ZK Research, based in Westminster, Mass.
Dig Deeper on Communications platforms and integrations