Zoom Phone cloud PBX expands features, partnerships
Zoom Phone works with desk phones from Polycom and Yealink and integrates with contact center products from Five9 and Twilio.
ORLANDO, Fla. -- Zoom has taken several important steps toward making its cloud PBX offering, Zoom Phone, a viable unified-commutations-as-a-service option for businesses with basic telephony needs.
At Enterprise Connect this week, Zoom announced it had integrated Zoom Phone with cloud contact center products from Five9 and Twilio. Next month, businesses will be able to route Zoom's cloud PBX into those contact centers through a Session Initiation Protocol trunk.
Zoom has also integrated the phone system with Salesforce, so users can make a phone call by clicking on names and numbers in the customer relationship management platform.
What's more, Zoom has certified its first desk phones, from Yealink and Polycom. The product also comes with desktop and mobile softphone clients and supports calling over cellular networks and Wi-Fi.
Zoom released the cloud phone system earlier this year as an add-on for businesses that subscribe to its flagship video conferencing product. Zoom's entry into the cloud telephony market -- its first significant expansion beyond video -- comes as the vendor reportedly prepares to begin selling stock publicly as soon as this year.
Many Zoom users are still unfamiliar with the new calling service, which launched in January, although multiple users expressed general interest in a product that could combine voice and video communications.
"We don't have an extreme use case for it right now. The reason Zoom was brought in was for video communications. Not to say it might not be looked at," said Kyle Ruge, communication and collaboration technologist for American Family Insurance, based in Madison, Wis.
"We definitely have more complicated [calling] needs, but we'll keep an eye on it," said Luke Bruner, IT product manager for The Church of Jesus Christ of Latter-day Saints, based in Salt Lake City. "We're always looking at voice solutions and how we can move things to the cloud."
Zoom edges toward potential conflict with partners
Zoom's pursuit of contact center partnerships suggests the vendor wants businesses to view Zoom Phone as more than just an extension of its video conferencing product. The vendor appears prepared to compete with UC-as-a-service (UCaaS) providers, such as RingCentral and 8x8.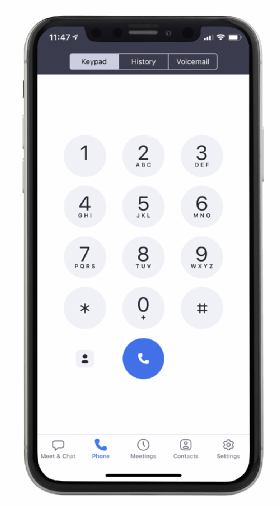 "They are a good meetings platform, and now I think they want a piece of the voice pie, which is the one tool everybody uses," said Zeus Kerravala, founder and principal analyst at ZK Research in Westminster, Mass.
That could potentially disrupt relationships between Zoom and its UCaaS partners. RingCentral, for example, licenses Zoom's technology to power its web conferencing offering, RingCentral Meetings.
For now, however, Zoom insists it has no plans to sell a stand-alone cloud PBX.
"We are not going to be another PBX in the cloud. We have our core product, and we want to augment it with a phone," said Oded Gal, head of product at Zoom, based in San Jose, Calif. "I would never say never, but at this point, we're really focused on making it as an add-on to our existing product."
The vendor chose to start with a Zoom Phone feature set that appeals to small and midsize companies that use Zoom heavily for video collaboration.
"If they want a full-on PBX that does 200 capabilities, we're more than happy to say here is RingCentral as a partner option for you," said Vi Chau, product manager of Zoom Phone.
Zoom hopes a significant selling point of its phone system will be its seamless integration with Zoom video conferencing. To that end, the vendor announced this week that users would be able to escalate a phone call to a video conference without hanging up and restarting the meeting.
Zoom is not the only new entrant to the cloud telephony market. Amazon this week added a basic calling service to its online meetings and messaging product, Amazon Chime, and Google is expected to add a business phone plan to G Suite next month.