Fotolia
Zoom Phone adds support for third-party calling services
Zoom Phone is now compatible with third-party calling services, and the product will launch in beta in the United Kingdom and Australia later this month.
Businesses can now connect third-party calling services to Zoom Phone, the cloud PBX offering the video conferencing provider launched earlier this year. Zoom also this week certified additional desk phones for the product and announced its imminent launch in the United Kingdom and Australia.
Zoom Phone's new bring-your-own-carrier option will let businesses test the cloud service without giving up management of phone numbers or abandoning investments in Session Initiation Protocol trunks and other calling infrastructure, said Irwin Lazar, analyst at Nemertes Research, based in Mokena, Ill.
The setup will also allow businesses to use advanced services that are only usually available from telecommunication service providers, such as virtual remote numbers and toll-free messaging, Lazar said. Plus, it's usually cheaper to buy access to the public switched telephone network (PSTN) from a telco than from a unified-communications-as-a-service (UCaaS) vendor.
Microsoft Teams, which competes with Zoom in the video conferencing and collaboration market, supports a similar bring-your-own-carrier feature, called direct routing.
"Zoom's launch of a third-party telephony [and] SIP trunking option is a clever move," said Elka Popova, analyst at Frost & Sullivan. "Many businesses have existing telco relationships and can get better deals on calling plans from their current providers."
Zoom has expanded its new PBX service significantly since launching the product in January. Most recently, the vendor integrated the product with contact center platforms from Twilio and Five9 and with customer relationship management vendor Salesforce.
Zoom Phone added support for desk phones from Yealink and Poly in March, and the vendor certified 10 additional devices from those vendors this week. More than 50 desk phones from the two vendors are now compatible with the Zoom product.
Zoom Phone will launch in beta in the United Kingdom and Australia on May 19, its first expansion beyond North America. The vendor said it expected to make the product generally available in those countries this summer.
Zoom, RingCentral extend partnership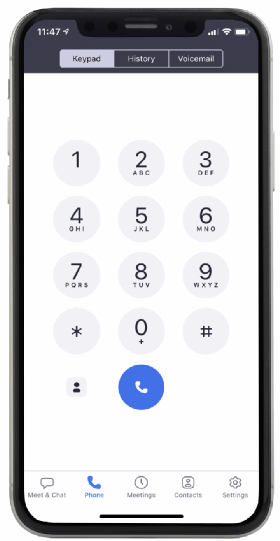 Zoom's continued expansion of its cloud PBX offering has fueled speculation that it is looking to become a full-fledged UCaaS provider -- a move that would bring it into competition with longtime partner RingCentral.
Last month, however, Zoom and RingCentral announced a multiyear extension of their partnership to bundle access to Zoom's video conferencing and RingCentral's cloud PBX service.
"Zoom and [RingCentral] just announced an expanded partnership, so I don't expect Zoom to try and become a full-fledged UCaaS provider," Lazar said. "I think their service will still primarily be aimed at SMBs or companies with simple calling needs."
Demand for traditional PSTN calling appears to be on the decline, as cloud meeting platforms such as Zoom and Cisco Webex have increasingly become the preferred method of communication for many organizations, Lazar said.
Zoom Phone is available only to businesses already subscribed to the vendor's flagship video conferencing product.
"We can only speculate what Zoom's future plans are," Popova said. "In my opinion, it will make sense for them to eventually also offer UCaaS as a stand-alone option and/or lead with UCaaS, rather than offer it as an add-on to the video services."
Dig Deeper on Video conferencing and visual collaboration