Gajus - Fotolia
Google Voice for G Suite expected to launch this spring
Google Voice for G Suite, a business version of its cloud calling service, will be available in at least nine countries, and its launch could come as soon as the early spring.
Google is gearing up to launch its cloud telephony service for businesses this spring. Google Voice for G Suite will be available in at least nine countries at launch.
The service should appeal to small businesses with basic telephony needs, particularly those already using Google's web conferencing and messaging apps, Hangouts Meet and Hangouts Chat. Google will offer three tiers of the service for an additional cost to G Suite customers.
The release of a business edition of Google Voice comes as the vendor continues to push G Suite as an alternative to Microsoft Office 365. Microsoft is already an established player in the unified communications market with Skype for Business and Microsoft Teams.
The growing cloud voice market is too big for Google to ignore, said Jim Lundy, CEO of Aragon Research, based in Morgan Hill, Calif. "They probably should have done this two years ago, but it's never too late," he said.
Google started beta testing Google Voice for G Suite in July 2018, after first revealing its intention to offer cloud calling plans to business customers in 2017. The vendor has provided a free voice service for consumers in the United States since 2009.
Some businesses are already using the consumer offering for specific calling needs. The enterprise version will offer more advanced calling features and IT controls.
Google Voice has beta users in the United States, Canada, the United Kingdom, France, Spain, Portugal, Sweden, Denmark and Switzerland. Smita Hashim, director of product management for Google Voice, said the service could become available as soon as the early spring.
Google Voice for G Suite seeks niche in SMB market
Many businesses are unlikely to view Google Voice as a serious alternative to full-fledged calling platforms from companies like Cisco, Avaya and Microsoft, said Irwin Lazar, analyst at Nemertes Research, based in Mokena, Ill.
But the way companies use voice is changing. Many employees now talk on the phone primarily through online meeting platforms, such as Zoom or Hangouts Meet. In that sense, Google Voice for business is analogous to Zoom's new cloud PBX offering.
"I think it's a compelling alternative for mostly small businesses or those who need to provide some bare-bones calling," Lazar said.
In beta, Google Voice supports the following basic features: caller ID, call forwarding, call screening, do not disturb, emergency dialing, Wi-Fi calling, spam detection, call blocking and custom greetings. IT administrators can manage users and numbers, generate call history and usage reports, and delegate administrative controls to others in the organization. Google wouldn't confirm how many of those features would be available when it launches the product.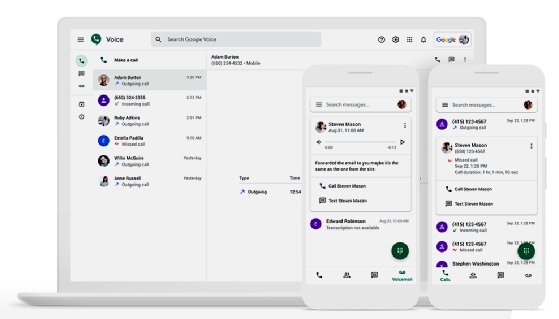 Google Voice is the latest expansion of G Suite to meet business demands. Google trails Microsoft in the business market for cloud-based productivity tools and has struggled to attract larger organizations to G Suite.
Google avoids competition with contact center partners
In July, Google released a set of developer tools for building AI apps for use in the contact center. Its partners include Cisco, Genesys, Mitel, Five9, RingCentral, Vonage and Twilio.
Google Voice could be configured to meet the needs of a small support or sales team, but Google does not intend to offer a version of the service for use as a contact center, Hashim said.
"In terms of the contact centers, that is a very specialized use case, and we have excellent partners that are already doing contact centers," she said.
Dig Deeper on VoIP and IP telephony