Kurhan - Fotolia
Zoom Phone to get spam blocking, 911 services
Zoom plans to roll out new features in Zoom Phone over the next several months. The enhancements include better messaging and spam-blocking technology.
Over the next few months, Zoom plans to roll out several features to its softphone for mobile devices and the desktop.
The video conferencing provider said that by early next year, Zoom Phone users will have the ability to block spam calls, message multiple people at once, and use in-office digital signage to locate people following a 911 call.
Specifically, the spam filter feature and improved messaging will be generally available by early 2021. Zoom plans to release the 911 capability in beta by the end of the year.
Zoom's two-year focus on Phone is an attempt to meet the telephony needs of people using its popular video conferencing service.
"I think Zoom saw an opportunity there to solidify their customer base more," IDC analyst Richard Costello said.
Early this year, Zoom merged its phone and video capabilities to widen its reach in the UC market. The company entered the IP phone market in 2018, a move that started its separation from partner RingCentral.
However, Zoom is mostly playing catch-up to competitors. Many of the features added to Zoom Phone are already in products from RingCentral, 8x8, Cisco and Google.
Zoom's spam blocking allows users to filter out unwanted calls by routing them to voicemail or blocking them outright. The latest 911 feature would let IT use in-office digital signage to direct first responders following an emergency call.
According to Frost & Sullivan analyst Elka Popova, spam and emergency capabilities are "super important" features that telephony companies provide.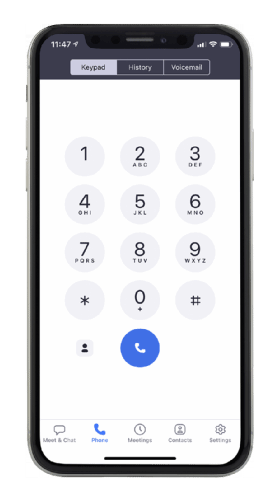 Nevertheless, Zoom does not plan to offer every possible telephony feature in Zoom Phone. "They have identified a customer segment in which Zoom's collaboration-centric solutions have a great appeal," Popova said.
Zoom introduced the Zoom Phone enhancements at its annual Zoomtopia conference. Other announcements included Zoom opening its marketplace to software developers and online event hosts. The company wants the former to make apps that run on Zoom and the latter to conduct classes or performances over Zoom.
The third-party software, which Zoom calls Zapps, will run entirely within Zoom. The company named nearly three dozen applications available by the end of the year, and it plans to open its marketplace to all preapproved developers in 2021.
OnZoom, the name Zoom gave to its event-hosting feature, will be widely available later this year. On it, users will offer classes, concerts and tutoring for a cost or for free. The feature is currently free for hosts, but Zoom plans to reevaluate pricing next year.
Also, at Zoomtopia, Zoom announced enhancements to SDKs that developers use to embed video conferencing into websites or apps. The company improved its custom background features by letting hosts set a theme or place participants in a common background, such as a classroom or courtroom.