FotolEdhar - Fotolia
Zoom opens marketplace to apps that run within its platform
Zoom plans to introduce by the end of the year nearly three dozen third-party extensions to its video conferencing platform. Zoom will offer the apps in its marketplace.
Zoom plans to open its marketplace to software developers that want to offer their products as extensions of the video conferencing platform. Zoom expects the partnership program to provide its subscribers with a broad selection of integrated software, including collaboration, productivity and education apps.
Zoom calls the third-party software Zapps, and plans to release nearly three dozen by the end of the year. In 2021, Zoom will open its marketplace to all preapproved developers.
Before the Zapps program, the Zoom App Marketplace offered only applications from partners that had embedded Zoom video conferencing within their products. Zapps, announced at the Zoomtopia user conference this week, marks a significant marketplace expansion.
Collaboration vendors that plan to offer Zapps this year include Dropbox and Slack. Other companies committed to launching products around the same time include calendar app maker Woven and presentation software maker Pitch. Coursera and Kahoot plan to offer online courses.
Zapps makers will tightly integrate their products into Zoom, so users won't have to leave the video conferencing environment. For example, Slack subscribers will be able to message each other. Dropbox customers will be able to share and edit documents during a Zoom meeting.
Also, Zoom users will have the option of screen-sharing Zapps during a video conference or sending them to participants who prefer to work on the apps directly.
IDC analyst Wayne Kurtzman said Zoom's best-of-breed approach would appeal to users who want to avoid a Microsoft-like model where everything comes from a single vendor.
"Individuals need the best tools available to do the best work, and sometimes that doesn't come from one vendor," Kurtzman said.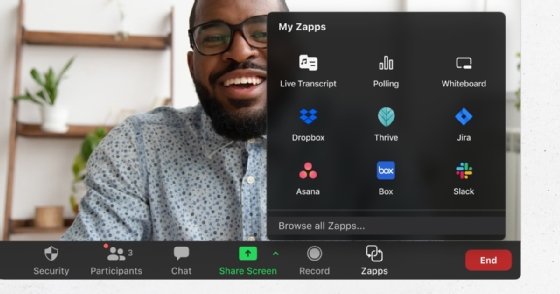 Zoom is not the first video conferencing company to allow third-party integrations within its product. Slack has the most extensive partnership program in the market, while Cisco provides APIs for melding products into Webex.
In addition to Zapps, Zoom introduced event-hosting software called OnZoom. Hosts can offer classes, concerts or tutoring on OnZoom for free, profit or fundraising. People can browse and sign up for single or recurring events.
Initial OnZoom partners include dance exercise company Hope Zoomba, wellness company WW International and cooking class company Whisk. OnZoom is available now in beta and will be available widely later this year.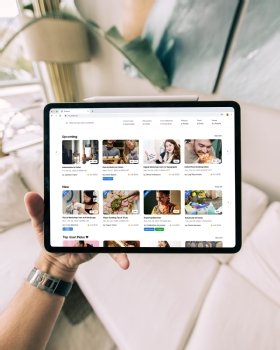 Zoom is not charging for hosting events; however, users must be paying customers of the service. Individuals and small businesses can host events for up to 100 people, while large companies will have a 1,000-person cap. Zoom plans to take an unspecified percentage of the hosted events' profits starting sometime next year.
Zoom is not the first collaboration company to host and market events from other organizations. Facebook released a similar program in September. It plans to start charging for the service in August 2021.
Other Zoomtopia announcements included enhancements to the Zoom SDKs developers use to embed video conferencing in websites and Android and iOS mobile apps.
Zoom also improved its custom-background feature by letting hosts of a video meeting set all participants' backdrops. Hosts can also place people in a virtual scene, like a classroom or a courtroom. Last month, Microsoft introduced a similar feature at its annual Ignite conference.
Finally, Zoom said its service would be available on more hardware, including the Nest Hub Max tablet and the Yealink A20. The latter is a camera, microphone and speaker bar that attaches to video monitors. Next year, HP, Lenovo and Neat plan to introduce Zoom-supported hardware but did not release details.
Dig Deeper on Team collaboration software