sommai - Fotolia
Zoom to launch virtual events platform
Zoom will launch an events platform in the coming months. Zoom Events will let businesses create hubs, sell tickets and track attendance at conferences and summits.
Zoom will launch a live-event platform this summer that will offer an all-in-one place to produce and monetize virtual conferences, summits and trade shows.
The company announced Zoom Events this week, saying the platform will help hosts meet the virtual needs of post-pandemic event planning. Zoom expects future conferences and summits to contain in-person and digital elements. The company did not provide pricing details or the product's release date.
Zoom Events will let companies host free or paid gatherings as one-off events or part of a series. Events can be posted to a public directory or held privately for an internal audience, such as a sales summit or all-hands meeting. During conferences, the platform allows attendees to network in a virtual lobby.
In Zoom Events, hosts can build a hub that will list all an organization's events and create customized ticketing and registration pages. Businesses can track tickets sold, attendance and revenue raised.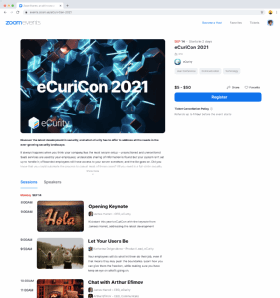 The company said OnZoom, its current event-hosting software, will be rebranded and folded into Zoom Events once the platform launches. OnZoom, which launched in October 2020, allows hosts to create and sell tickets to video sessions like fitness and cooking classes.
Zoom said video will remain an essential component of events, even after pandemic restrictions ease. The company cited its survey that found 52% of U.S. respondents intended to attend events both in-person and virtually.
Wayne Kurtzman, an analyst at IDC, said businesses want to provide remote participants with the benefits of in-person attendance.
"IDC research shows that the remote audience still wants to do people things: engage with speakers and each other, and continue the community well beyond the event," he said.
Adam Preset, an analyst at Gartner, said businesses that want to host virtual or hybrid events, may look to their video conferencing vendors first.
"Familiarity with Zoom can be a big plus," he said. "People might already know the experience, and there's less of a learning curve."
The Zoom Events announcement is the latest in a series of event-related news in the UC market. Last week, Cisco said it will buy Socio Labs to improve Webex's ability to host large-scale events. Microsoft has revamped Teams' webinar capabilities, accommodating up to 10,000 audience members.
Mike Gleason is a reporter covering unified communications and collaboration tools. He previously covered communities in the MetroWest region of Massachusetts for the Milford Daily News, Walpole Times, Sharon Advocate and Medfield Press. He has also worked for newspapers in central Massachusetts and southwestern Vermont and served as a local editor for Patch. He can be found on Twitter at @MGleason_TT.
Dig Deeper on Video conferencing and visual collaboration