WavebreakMediaMicro - Fotolia
G Suite for business adds enterprise voice, IT controls
Google released an enterprise phone system and plans to add new IT controls to G Suite for business in an effort to attract larger companies.
Google has launched a business phone system and released in beta several enhancements to its products for collaboration, messaging and web conferencing in G Suite for business.
The introduction of Google Voice for G Suite at this week's Google Cloud Next conference plugs a gap in the vendor's enterprise portfolio. At launch, the cloud service offers fewer features -- and comes with a smaller partner ecosystem -- than telephony systems in Microsoft Office 365.
Google has certified one series of IP desk phones for Google Voice: the VVX series from Poly -- formerly Plantronics and Polycom. Because it offers only basic features, the service should appeal to small businesses and small teams within a larger company.
Google's voice service supports voicemail transcription, call forwarding, auto attendants and e-discovery. It also gives IT administrators a console for managing phone numbers and tracking usage.
Google Voice for G Suite is available in the United States, Canada, the United Kingdom, Spain, France, Ireland, the Netherlands, Sweden, Denmark, Portugal, Switzerland and Austria.
G Suite for business adds data residency, IT controls
Although G Suite fares well in the small-business market, Google has struggled to win enterprise contracts against competition from Office 365.
One weakness of G Suite for business had been that it did not give enterprises control over where to store their data. That changed this week with the launch of data regions for G Suite, a feature introduced in the preview last summer. Businesses can now distribute storage of their data globally, or keep it on specific servers in the United States and Europe.
"The most interesting feature for large companies will be the data region capability," said Jeffrey Mann, analyst at Gartner. "Not being able to define where their data is stored has been a major objection for G Suite."
Google also plans to soon launch in beta two new IT dashboards: an alert center for tracking security threats and a security center for investigating those threats and managing alert settings.
Google still needs to show its products can work for enterprises with a mix of cloud and premise-based technology, said TJ Keitt, analyst at Forrester Research. Microsoft, in contrast, has already proven itself to businesses.
"Part of the challenge for Google has always been how IT departments within larger companies view Google's offerings, versus what they're familiar with from a company like Microsoft," Keitt said.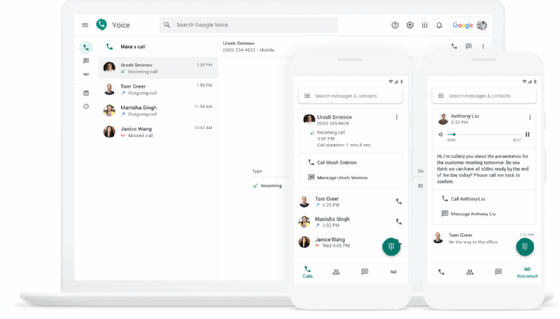 Hangouts Meet, Hangouts Chat and Google Assistant
Google added live captioning to its web conferencing platform, Hangouts Meet, and said the app would soon support meetings of up to 250 people. The vendor also added to Hangouts Meet a live broadcasting feature, with support for up to 100,000 viewers.
Microsoft has said real-time transcription for Microsoft Teams would launch in public preview soon. Last month, it launched a live broadcasting service, with support for up to 10,000 viewers.
Google will soon launch in beta support for Hangouts Chat within Gmail, letting users IM in the bottom left corner of the email dashboard. Hangouts Chat -- a team collaboration app similar to Slack -- will replace the consumer-focused messaging app Hangouts, which Google has supported in Gmail for years.
Meanwhile, Google has added the AI voice interface Google Assistant to the G Suite calendar, so users can perform basic commands -- like querying upcoming meetings -- with their voice.
"I expect that Google -- who has impressive AI [and] machine learning, is now sharing a much stronger narrative and has added new enterprise customers -- will continue to make a more compelling case for enterprise consideration," said Wayne Kurtzman, analyst at IDC.