sommai - Fotolia
Zoom addresses accessibility for deaf and hard of hearing
Zoom has added accessibility features that will let users with hearing loss rearrange windows to see a sign language interpreter better while viewing presentations.
Zoom has introduced features to improve accessibility to its video conferencing service for people who are deaf or hard of hearing.
The latest capabilities let presenters spotlight or make stationary multiple screens for participants instead of one, Zoom said this week. The pin and spotlight changes will make it easier for participants who are deaf or hard of hearing to place a sign language interpreter alongside the presenter. The positioning helps them understand what is said while viewing the presentation.
People can also rearrange the windows that show up on their grid, allowing users with hearing loss to place the sign language interpreter in the best corner for them.
While the changes improve overall accessibility, they are somewhat limited in scope. For example, presenters can allow only nine people at a time to pin two windows. And presenters can pin only nine windows themselves.
In addition to the pin and rearranging options, presenters can overlay themselves over their presentations.
Eric Bailey of digital accessibility advocacy group A11y Project said seeing two speakers at once is vital. "This is especially important for situations where interpreters are required, such as government briefings," he said.
Having accessibility in video conferencing services is not new to Zoom. Competitors Cisco Webex and Microsoft Teams have had similar functionality for a while. Webex has all of the functionality that Zoom just introduced. Teams lacks a rearrange option.
Jon Henner, a deaf assistant professor at the University of North Carolina, Greensboro, said the new Zoom features would make it easier to do his work. Henner said he regularly attends conferences and panels, does workshops, teaches classes and holds meetings -- all of which require video conferencing.
In a recent meeting with his child's school, which uses Microsoft Teams, Henner ran into some problems.
"We had a rough time figuring out how to pin the interpreter for me such that I had to run two different laptops to access [the presentation]," Henner said.
Zoom offers a shortcut menu to mute or unmute audio and start or stop a video. There will also be an option to select a person or a third-party platform like Otter.ai to do closed captioning if the embedded captioning software isn't satisfactory.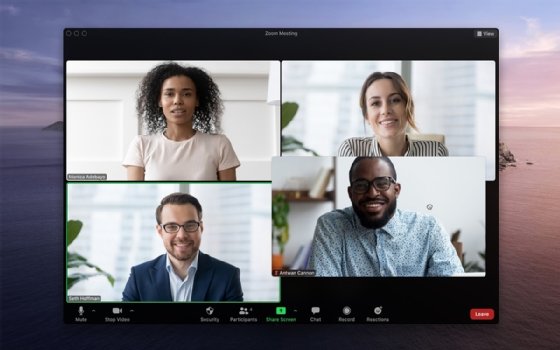 Henner said he has some qualms with the closed captioning Zoom provides. As a deaf person, he would like other ways to designate that he wishes to speak. The hand-raising option is not the best signal when non-deaf people are talking over each other, he said. Henner added that he prefers an option that would light up windows of people who wish to say something.
According to data from the U.S. Census Bureau, disabled people make up about 12.6% of the population, or about 40.6 million people. Deaf people alone make up about 3.6%, or 11.5 million people. Despite these numbers, UC providers have been slow to accommodate users with disabilities.
Zoom's announcement comes at a time of unprecedented growth. The company also recently announced partnerships with Medallia on a LivingLens transcription service, with BenQ on video conferencing displays, and with LogiTech on a mouse with buttons for Zoom shortcuts.
Zoom first unveiled the accessibility features Aug. 31, the International Day of Sign Languages. The company developed the features with the help of the A11y Project.