Business desk phones see changing role in the enterprise
Desk phones seem to be going the way of the Dodo in favor of softphones and mobile clients. But research suggests organizations are finding new ways to use desk phones for business.
The desk phone has gone through many changes over the years, evolving from rotary dials to push buttons to touchscreens. But are business desk phones a communications relic or do they still have a role in your enterprise communications environment? The answer, as any good consultant would say, is it depends.
Nemertes Research has tracked endpoint adoption trends for the last several years. The company's 2018 unified communications (UC) and collaboration study gathered data from more than 600 organizations with endpoint deployments ranging from 15 to more than 50,000 devices. The results are clear: The desktop phone is under assault, but it's not dead yet.
For example, 27% of organizations plan to increase desk phone deployments by the end of 2019, compared to 24% that plan to reduce them. The percentage of organizations increasing desk phone deployments is smaller than those increasing softphones and mobile UC client deployments, but it's still significant. For many organizations, the reality is business desk phones still represent an integral part of their UC and collaboration environments.
Let your specific requirements, and not market hype, guide your decision-making as you make your future phone plans.
While the handset is not dead, its role is certainly changing. Participants in the research noted several different ways they are now using or plan to use business desk phones.
Adjunct to a mobile UC client. Some organizations are deploying business desk phones that connect to a PC via USB, with the PC running its own instance of a UC client, or a phone that is Ethernet-based and controlled by the desktop UC client. The desk phone functions primarily as a speaker phone to enable users to join meetings or dial from corporate directories with one click.
Open-area deployments. Desk phones in open areas support guest access and security in locations including college dormitories, office hallways, and reception or break rooms.
Vertical applications. These applications include desk phones in hotel rooms, nurse stations or other environments that require the delivery of dedicated applications. For example, a hotel could provision a desk phone with a touchscreen to enable a guest to order room service or make reservations. The hotel could customize the phone's screen based on the guest's status and past purchase behavior.
Simple communication needs. Let's face it, not everyone requires a team collaboration app, multi-line instance or the option to join meetings with one click from their phone. Retail branches and small offices may only need voice communication. As such, the plain old desk phone may still be the ideal user interface.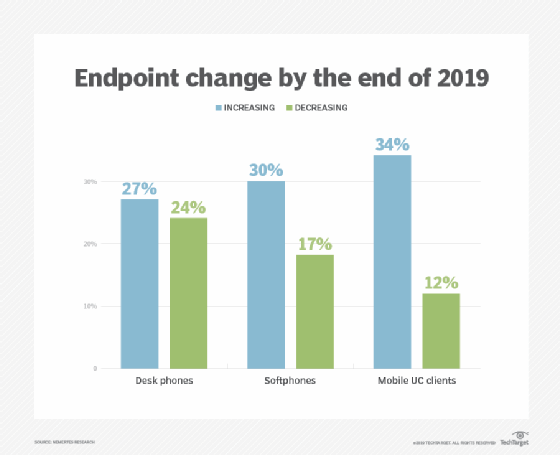 Should you plan for a future without desk phones? Possibly. Is the desk phone dead? Definitely not.
Successful deployment strategies are always based on providing user experiences that align with user needs. You should not force individuals to use a tool they do not want, a tool that does not align with their work style or a tool that complicates their ability to communicate.
For a large and growing segment of the workforce, the desk phone does indeed represent a relic of a different time. But, for many others, the desk phone still meets the need for simplicity, quality and ease of use. Let your specific requirements, and not market hype, guide your decision-making as you make your future phone plans.